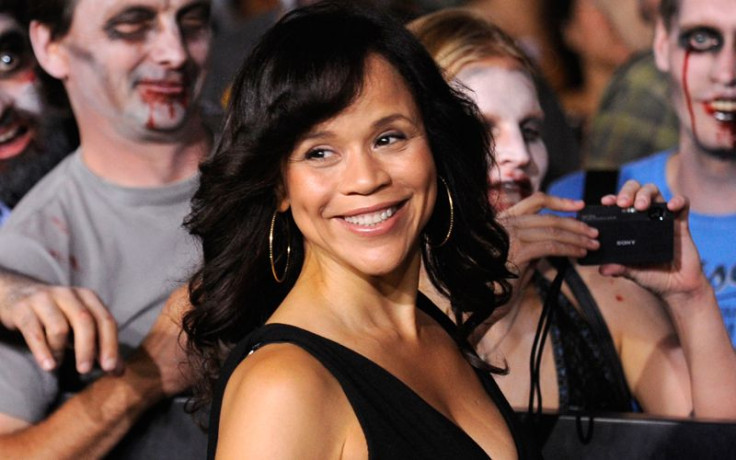 Rosie Perez was one of the new additions to "The View" after it underwent a major revamp. At the start of the new year she was notably absent and audiences were told that the actress was in rehearsals for a new play with Larry David. A new report from Variety has revealed that 50-year-old actress will not be returning to the ABC morning show and has been let go after only four months on the table. Producers of the talk show have denied the rumors and a rep told the trade publication that "her [Perez] status with the show has not changed."
This morning Rosie O'Donnell addressed the news and said: "No matter what you read anywhere, Rosie Perez…is coming back after she is done rehearsing her play, the new Larry David play ["Fish in the Dark"] that she is starring in. It opens soon, and then she will be back here at her job, regardless of what you hear in other shows, or read in magazines as I did last night at 11:40 and went, 'What the f**k?!'" O'Donnell has been informing viewers of Perez's absence every day and just a couple days ago received an update from Perez herself in a clip she shot on her phone directly from rehearsals.
Rosie O'Donnell has been moderator since the start of 2015 as Whoopi Goldberg has also been absent from the show after she had to undergo back surgery. Goldberg is expected to be back next week. We were so thrilled when Rosie joined the cast of the revamped show, but honestly, we think it's best if the rumors become a reality and here are five reasons why:
1. Slows Down The Rhythm: We have to give it to Rosie that she does follow politics and knows how to back up her ideas, but the problem is that she takes a long time to form that idea. Every time the ladies are discussing a "hot topic," when she wants to say something, she takes forever to form her idea in her head and say something coherent. Perez tends to talk a lot but at the end it's not something coherent. Too many times she has left the other girls scratching their heads over trying to figure out what she just said. A talk show like this is supposed to be fast-paced and Rosie slows down that rhythm of cross talk.
2. Hard Time Reading Teleprompter & Interviewing: According to the Variety report an insider revealed that Rosie has had a hard time reading the teleprompter and we couldn't agree more. Every time Rosie had to take it to commercials and tease the next segment or introduce their guest, she struggled read the teleprompter and not stumble on the words coming out of her mouth. Her interviewing skills are just not there, she reads most of her questions from the prepared cards, right in front of the guest. Maybe try to learn the questions while the guest is answering another question to look more prepared? Just a thought.
3. Better Alternatives: While Whoopi and Rosie have been away there have been a parade of guest stars filling in the chairs and there is much more talent out there that would be a better fit for the job. Cristela Alonzo was there for two days and she seemed to get with the flow much quicker. Alonzo is a stand-up comic and knows how to think quick on her feet. This is what the show needs, someone loud, someone that will bring in energy. Alicia Menendez from "Fusion" has also filled in and she provided a different perspective to the other people on the table as well as bringing in different sensitivities.
4. Too Many Actresses: Poor Nicolle Wallace is the only one in the panel that doesn't have Hollywood in her background as is the odd woman out. Whoopi, Perez and O'Donnell are all actresses and tend to share similar experiences. We need to have one that has a different background or is lesser-known. The show needs someone that is not afraid of burning bridges in Hollywood and actually give an opinion no matter how controversial it may be.
5. More Committment: Rosie seems to still want to be an actress, which is fine. If Perez wants to do both, that is ok, but as a viewer of the show, one likes to see the cast as it is. Once in a while it's fine to change things up, but if she's going to be leaving to do other things multiple times a year, we just don't see that as a fair. There are many other people looking for an opportunity and if you can't be committed to a project 100% during the first year, then what? Fully committing means that the show can produce more original content and connect with the viewers.
© 2023 Latin Times. All rights reserved. Do not reproduce without permission.