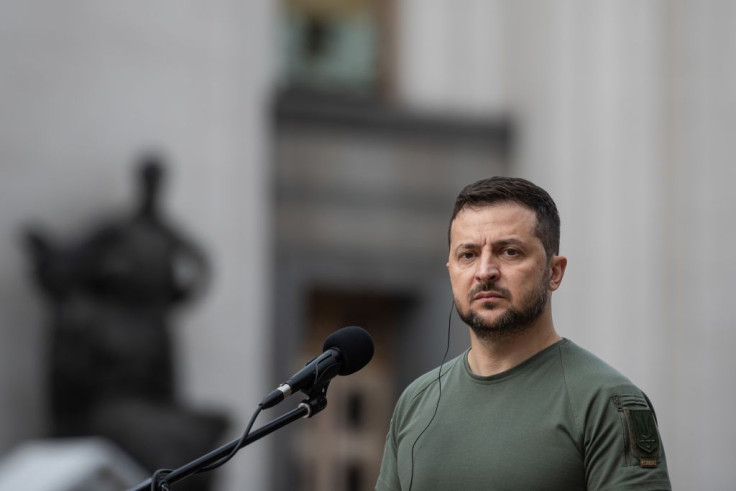 As Ukraine prepares for its May 9 Victory Day holiday commemorating the defeat of Nazi Germany, which Kyiv observed a day earlier in a new break with Moscow, Russia escalated attacks on Ukraine on Monday, launching its largest wave of drone strikes on Ukraine in months.
The mayor of Kyiv reported that 60 Iranian-made kamikaze drones had been fired by Russia at targets in Ukraine, including 36 toward the city.
All of the drones were shot down, but the wreckage impacted homes and other buildings, hurting at least five people on the ground.
In the Black Sea city of Odesa, a food warehouse was set on fire by a rocket; according to authorities, three people were hurt.
The Russian air campaign was restarted ten days ago after a break since early March, and this drone swarm was the largest one yet.
In order to give President Vladimir Putin his sole reward for a costly Russian winter offensive in time for Victory Day, Kyiv reported that Moscow was also making a final drive to try to seize the destroyed eastern city of Bakhmut.
The most significant day on the Russian calendar under Putin, who exploits the 1945 Soviet victory over Nazi Germany to support his invasion of Ukraine, is Tuesday's Victory Day celebration, which Moscow is preparing for.
Ukraine celebrated Victory Day on Monday rather than Tuesday in a new breach with Moscow, following the example of its Western friends.
President Volodymyr Zelenskiy declared that he had issued a proclamation changing the date legally going forward.
On May 8, 1945, late at night in Berlin, when it was already May 9 in Moscow, the date that would become a Soviet holiday, the German army surrendered.
In World War Two, Ukraine suffered more per capita casualties than Russia because it was a part of the Soviet Union that the Nazis had taken over and because it was one of the main centers of European Jewry that was exterminated during the Holocaust.
"Recalling the heroism of millions of Ukrainians in that war against Nazism, we see the same heroism in the actions of our soldiers today," said Zelenskiy, who addressed the nation from a hilltop overlooking Kyiv, Reuters reported.
"Unfortunately, evil has returned. Just as evil rushed into our towns and villages then, so it does now. As it killed our people then, so it does now," he said. "And all the old evil that modern Russia is bringing back will be defeated, just as Nazism was defeated."
Kremlin spokesman Dmitry Peskov said he believed veterans in Ukraine still held May 9 as the sacred day.
Explosions could be heard all through the night in Kyiv. Mayor Vitali Klitschko announced on Telegram that three persons were hurt in explosions in the Solomyanskyi neighborhood and two more when drone debris fell in the Sviatoshyn area, all to the west of the city.
The Zhuliany airport, one of the capital's two passenger airports, was the scene of a drone accident, according to Kyiv's military administration, which said emergency services were called even though there was no fire. Additionally, the damage seems to have been caused by drone debris striking a two-story building in Shevchenkivskyi's downtown sector.
In Odesa, photographs provided on Telegram by Serhiy Bratchuk, a spokesman for the Odesa military administration, showed a massive building entirely engulfed in flames that were later identified as a food warehouse.
Local media said that explosions were heard in the southern region of Kherson and the southeast of Zaporizhzhia after air raid alarms had been broadcast over about two-thirds of Ukraine for several hours.
A warehouse and a position of Ukrainian troops in the small city of Orikhiv were reportedly hit by Russian forces, according to Vladimir Rogov, a Russian official stationed in Zaporizhzhia. The report could not be independently verified by Reuters.
Separately, the regional military administration claimed in a Facebook post that Russian forces shelled eight locations in Sumy in northeastern Ukraine on Sunday.
Additionally, attacks on locations under Russian control have increased during the previous two weeks, particularly in Crimea.
While denying any involvement in such assaults, Ukraine claims that destroying enemy infrastructure is a necessary step in preparing for its eagerly anticipated ground assault.
© 2023 Latin Times. All rights reserved. Do not reproduce without permission.