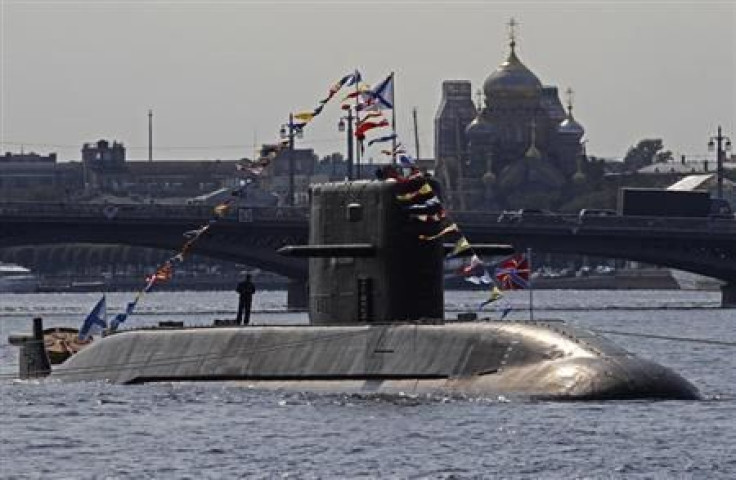 Russia has announced the revival of its nuclear submarine program more than 20 years after the fall of the Soviet Union.
The country revealed its plans Sunday to implement nuclear subs to patrol the south seas in an effort to rebuild its military presence, Reuters reported.
Borei-class submarines, which can carry up to 16 long-range nuclear missiles, will be sent to the Southern Hemisphere following President Vladmir Putin's decision to foster a naval presence in the Mediterranean Sea starting this year, Global Post reported.
"The revival of nuclear submarine patrols will allow us to fulfill the tasks of strategic deterrence not only across the North Pole but also the South Pole," a state-run news outlet, Itar-Tass, cited an unnamed official in the military General Staff as saying.
Putin has frequently stressed the importance of a strong military to combat external threats since returning to the presidency in May, saying that Russia will continue to build up its arsenal and Navy.
The patrol subs will be implemented gradually over the course of the next few years, the military source told Itar-Tass. The first of these submarines, carrying Intercontinental Ballistic Missiles (ICBMs), should be visible in the south seas by 2020.
"As the Russian Navy receive the Borie-class missile submarines, they will not only continue to patrol the Arctic, Atlantic and Pacific Oceans, but will resume execution of combat missions in those regions of the world's ocean, where in the late 90s of the last century used to be the Soviet Navy, and where they have ceased to appear following the collapse of the Soviet Union," Itar-Tass' source said.
Nuclear war between Russia and the U.S. has been a dwindling fear since the end of the Cold War, especially in 2010 when Russia signed the New START treaty limiting its number of warheads and carrier units. The treaty, however, does not mean that Russia's current arsenal could not devastate the world should war break out.
The Borei-class submarines and the Bulava ballistic missiles they carry were designed in 1990 when science and defense industries in Russia were struggling. The country's leadership believes that the Bulava missiles are the first step toward preventing nuclear attack, but have not yet managed to successfully launch a program.
© 2023 Latin Times. All rights reserved. Do not reproduce without permission.