With the invasion of Russia on Ukraine still on, the soldiers who have been killed in the war remain a mystery.
Numbers are being posted and these are far from comforting. However, the consistency of how many died is a big question.
On one end, there is a claim that the number of soldier casualties is about 9,861. This was the number suggested by pro-Putin Russian tabloid Komsomolskaya Pravda. However, this would soon be retracted, alleging they were hacked.
"As far as the numbers are concerned, we agreed from the very beginning that we do not divulge the information," spokesman Dmitry Peskov said on Tuesday, Mar. 22.
The smell of the dead has been reportedly noticeable, particularly in the Mykolaiv region. Bodies of dead Russian soldiers are strewn across the landscape and are becoming a problem.
The number of dead bodies has led the region's governor, Vitaly Kim, to call on residents to help collect the corpses and place them in bags.
Mykolaiv was among the first regional capitals to be attacked after Russian President Vladimir Putin launched the invasion of Ukraine on Feb. 24. But despite the initial belief that Russia would overpower itself, the Ukrainian military has found a way to hold off the threat of the invading country.
Although reports claim that Russia is collecting their dead soldiers, Kim called on the bodies to be placed in refrigerators and sent back to Russia for proper identification and DNA testing.
"Do you know they have brought a cremation chamber with them? They're not going to show the bodies to their families. They're not going to tell the mothers that their children died here," Kim stated.
The immediate problem is identifying the Russian soldiers killed. They have no papers and the metal dog tags they wear are reportedly hard to read.
"It's very difficult to identify the dead because normally they don't have documents with them, normally the commanders take their documents and put them in some boxes. Normally they die in this fire, in shelling. And you cannot identify the metal 'dog tags,' where their number is written, it gives us no information about the person," Viktor Andrusiv, an adviser to Ukraine's internal affairs minister and the creator and coordinator of the channel said.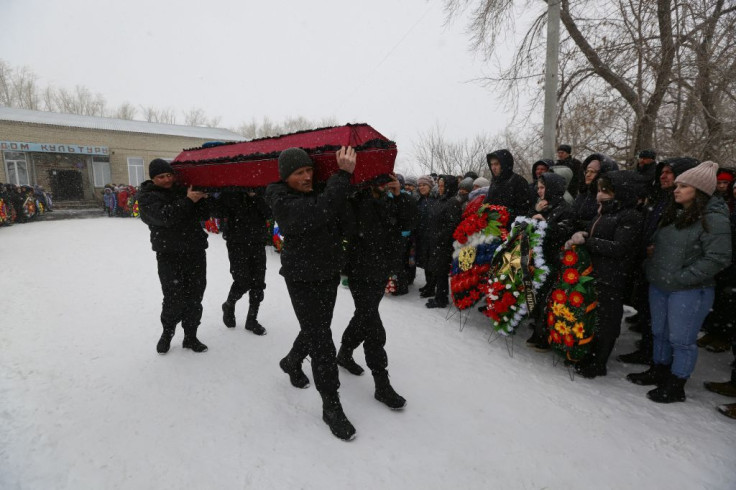 © 2023 Latin Times. All rights reserved. Do not reproduce without permission.