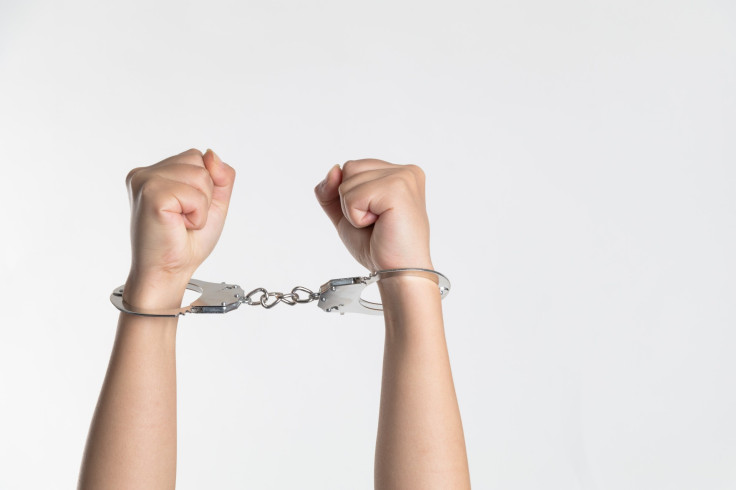 A university student in Russia who criticized the Russian special forces operation in Ukraine has been placed under house arrest with an electronic tag on her leg.
Olesya Krivtsova, a 20-year-old student at the Northern Federal University, is facing up to 10 years in jail and will also be added to the government's list of terrorists and extremists. She is accused of advocating terrorism and defaming the Russian military.
She was detained for posting anti-war posts on social media, including one about the Oct. explosion on the bridge connecting Russia with the annexation of Crimea. She is banned from talking on the phone and going online under house arrest.
"I posted an Instagram story about the bridge, reflecting on how Ukrainians were happy with what had happened."
She said that she had also shared a friend's post on the conflict.
Olesya Krivtsova recalled being detained and said that she was on the phone with her mother when she heard the front door open and police officers barging in, reports BBC.
"I was talking on the phone to my mother," Olesya recalls, "when I heard the front door opening. Lots of police came in. They took away my phone and shouted at me to lie on the floor."
"I never imagined anyone could get such a long prison sentence for posting something on the internet," Olesya says. "I'd seen reports of crazy verdicts in Russia, but I hadn't paid much attention and continued to speak out."
Olesya has a striking tattoo of Russian President Vladimir Putin as a spider with the Orwellian phrase, "Big Brother is watching you," on her right leg.
It seems that in Olesya's case, it wasn't Big Brother watching her, but her fellow students.
"When I realized I'd been put on the same list as school shooters and the Islamic State group I thought it was crazy," recalls Olesya.
"A friend showed me a post about me in a chat," Olesya says, "about how I was against the 'special military operation'. Most of the people in this chat were history students. They were discussing whether to denounce me to the authorities." The BBC has seen extracts from the group chat.
In one comment, Olesya is accused of writing "provocative posts of a defeatist and extremist character. This is out of place for war-time. It must be nipped in the bud".
"First let's try to discredit her. If she doesn't get it, let the security services deal with it."
"Denunciation is the duty of a patriot," another comment.
Later, Olesya recognized the identities from the student conversation when the list of prosecution witnesses was read out in court.
One year has passed since the Kremlin began what it refers to as a "special military operation" in Ukraine, which is another name for an invasion of neighboring Ukraine. President Putin urged the Russian population to distinguish "true patriots from scum and traitors" just weeks after the assault.
Since then, there have been reports of Soviet-style denunciations against critics of the war all around Russia. They include students informing on teachers and workers denouncing colleagues.
It is risky to publicly criticize the invasion, including by reposting the criticism of others. The offensive in Ukraine should get complete and unwavering backing, according to Russian officials. At the very least, you are supposed to remain silent if you disagree with it. There are several oppressive laws for penalizing dissent if you don't keep quiet. That includes laws against spreading "false information" about the military and "discrediting" the army.
The words "Being a warrior means living forever" are painted on the façade of a nine-story residential building in Arkhangelsk with a massive photo of a Russian soldier killed in Ukraine. The messages are convincingly patriotic. We have little pity for Russians who are being prosecuted for their anti-war remarks on the streets of Arkhangelsk.
Olesya says, "People who discredit our army or spread fakes, they're sick in the head," Konstantin tells me. "They should be sent to the front line as cannon fodder."
"I have a negative attitude to critics of the special operation," Ekaterina tells me.
"But a long prison sentence for posting something online, isn't that harsh? I ask," Olesya said.
"People should use their brains," Ekaterina replies. "If they live in this country, if they enjoy all the benefits this country has to offer, if they're patriots, they need to abide by the law."
Olesya is permitted to leave her apartment later that day just to show up at a court hearing. Her defense lawyers are trying to persuade a judge to lift the restrictions on her movement.
"The state doesn't have the stomach for debate, for democracy or freedom," Olesya says. "But they can't put everyone in prison. At some point they'll run out of cells."
On Olesya's T-shirt, the word "School Bus" is displayed next to an image of a police vehicle. A comment on the treatment of young Russians who criticize the government. The court orders that she remain under home arrest.
© 2023 Latin Times. All rights reserved. Do not reproduce without permission.