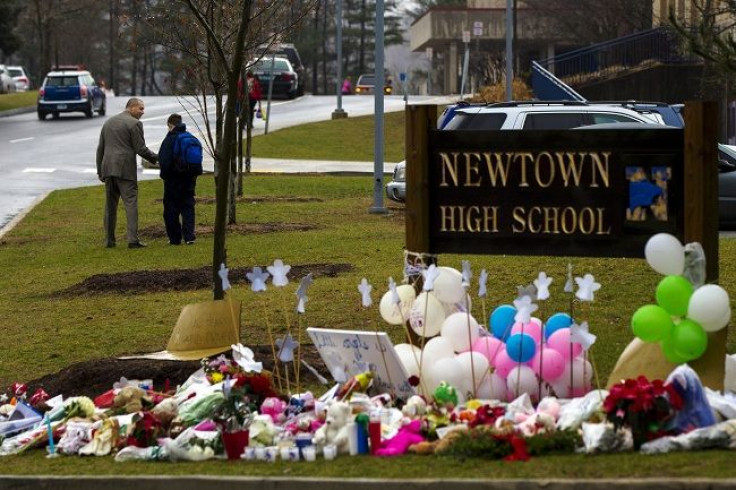 As the city of Newtown grieves in the wake of the second-deadliest school shooting ever at Sandy Hook Elementary, families of victims of the massacre at Virginia Tech are reaching out to offer support to those affected by the tragedy in Connecticut.
"[We] express our sincere and heartfelt condolences to the families of the children, teachers, and staff lost, survivors, and other victims in this time of trauma and grief," Joe Samaha, president of the Virginia Tech Victims Family Outreach Foundation, said in a press release.
Twenty-year-old Adam Lanza reportedly shot his mother Nancy four times as she lay in bed Dec. 14, packed at least three of her guns, and then drove her car to the Connecticut K-4 elementary school, opening fire in two classrooms around 9:30 a.m., fatally shooting 20 children and six adults, police said. Police are still searching for a motive; witnesses said the shooter didn't utter a word.
"The immediate concern we have is for those families in Newtown whose lives are now altered, forever ... As families of the victims and survivors of the ... massacre at Virginia Tech, we know that their loss is incredible. Helping all to deal with the aftermath will take a lifetime of love and dedication," Samaha said.
The campus of the Virginia Polytechnic Institute Blacksburg, Va was the site of the deadliest shooting by a single gunman ever in the U.S. On April 16, 2007, Seung-Hui Cho, a 23-year-old South Korean citizen with U.S. resident status, shot and killed 32 people and wounded 17 others during two separate attacks, before committing suicide.
There have been 15 mass shootings in the U.S. this year alone, according to the Huffington Post.
According to police, the three guns used in the shooting were legally purchased and registered to his mother. Lanza reportedly primarily used a military-style Bushmaster .223 assault rifle during the shootings.
"I have asked that angels be placed on our community tree as a gesture to Newtown that not only do we love them and care about them, but we feel their pain," said Letitie Clark, mother of Virginia Tech victim Ryan Clark.
"I can understand, and I feel their pain of what the families will be going through, not just now, but for many years to come," Clark added.
Authorities reportedly questioned Lanza's older brother, 24-year-old Ryan Lanza, of Hoboken, N.J., for hours the day of the shooting Dec. 14 and searched his computers and phone records, but he told law enforcement he had not been in touch with his brother since about 2010. Police say he is not a suspect in the case.
According to authorities, Adam Lanza hadn't spoken to his brother or estranged father in almost two years.
Lanza reportedly suffered from Asperger's syndrome, a developmental disorder, which is a mild form of Autism, and was unable to physically feel pain. Numerous experts on the disorder have spoken out recently attempting to dissuade reports of the disorder's connection to tragic events.
In the final days before the tragedy in Newtown, Nancy Lanza had grown increasingly more concerned with Adam, pushing him occasionally to move out and be sociable, but "he didn't want to leave," according an anonymous friend who spoke to the New York Daily News. "He didn't understand why she wanted him to go out into the world. She told me she couldn't reach him - and she was worried."
"Our tragic experiences are of course unique, yet similar. VTV stands ready to help if called on," Samaha said.
Virginia Tech honored the victims of the tragedies in Blacksburg and Newtown when its football team played Rutgers Friday in the Russell Athletic Bowl in Orlando. The Hokies' helmets were emblazoned with a large orange-and-green ribbon, along with the word "Prevail" and the number 58 for the total number of victims.
"It's just one of those things that we've been through what those people up in Sandy Hook are going through," Virginia Tech coach Frank Beamer said Monday, according to the Orlando Sentinel. "We prevailed in Blacksburg. I think if anything, it brought us closer and more determined, and the same thing is going to happen there. The way the community is coming together. It's a terrible thing to happen."
© 2023 Latin Times. All rights reserved. Do not reproduce without permission.