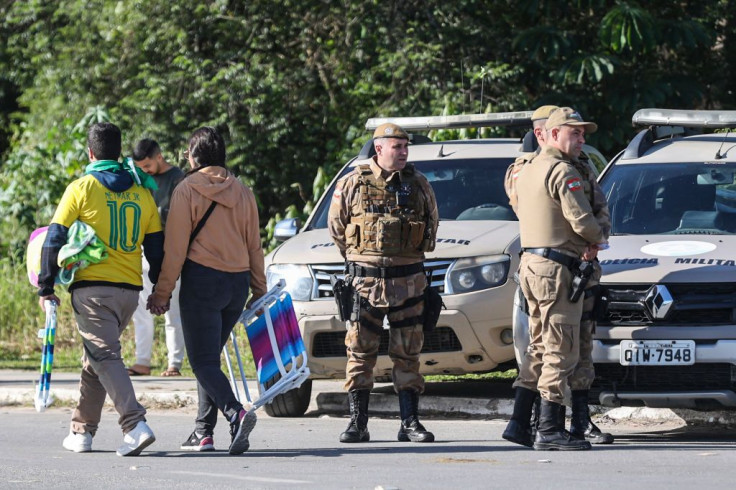 At least eight people have died in an alleged police retaliation on the coast of Sao Paulo state, following the murder of officer Patrick Bastos Reis by drug traffickers.
Residents of Baixada Santista have reported threats and torture since about 600 police officers were deployed in the region after Reis was allegedly killed by drug traffickers in Guaruja last week, The Guardian reported.
Claudio Aparecido da Silva, the police ombudsman for Sao Paulo state, said late Sunday at least 10 people had died. He told Globo News they have received reports of "violent action by the security forces at the site, as well as constant threats" to the people living in that city."
However, the state's governor, Tarcísio de Freitas, disputed that figure. Freitas confirmed Monday that eight people had died over the weekend during a police operation carried out in the Guaruja municipality, reported Telesur.
"There were eight deaths this weekend. The police want to avoid confrontation at all costs, but unfortunately, once they are provoked, a confrontation occurs... The police react and will react to repel the threat," he added.
One of the victims was a street vendor whose body reportedly showed signs of torture and was shot nine times.
A member of the military police's Rota tactical unit, Reis was on patrol when he was killed. Following his death, three suspects were arrested, state security secretary Guilherme Derrite said. One of the suspects died during a confrontation with the police.
The suspect, identified as Erickson David da Silva, shot and killed the officer after which he was arrested Sunday. He was apparently linked to a drug trafficking gang in the region.
Even after the capture of the suspects, residents claimed the officers continued to torture and kill "everyone." They have allegedly threatened to murder 60 more people, Telesur reported.
Freitas said during a press conference on Monday the police did not desire confrontation, but they were "not going to tolerate aggression."
He added he was "extremely satisfied with the police's actions" in detaining Reis' killer on Sunday.
Freitas served as infrastructure minister in former president Jair Bolsonaro's far-right government, and shared the latter's admiration for violent policing.
During his campaign, he had defended doing away with police body cameras. However, shortly after taking office as the governor in January, he said he would not alter the bodycam policy for now.
The policy, which was introduced by his predecessor Joao Doria, had been associated with a major drop in killings by the police. Last year, Sao Paulo's military and civilian state police forces killed 419 people. The figure had dropped from 814 in 2020.
Police ombudsman Silva said the officers in Guaruja were wearing body cameras at the time of the incident, and added they will demand a "rigorous investigation so that any (violations) that may have occurred be duly punished."
All the deaths resulting from clashes with the police will be probed, said the state public security secretariat. Police reinforcements will continue to stay in Guaruja for at least 30 days.
© 2023 Latin Times. All rights reserved. Do not reproduce without permission.