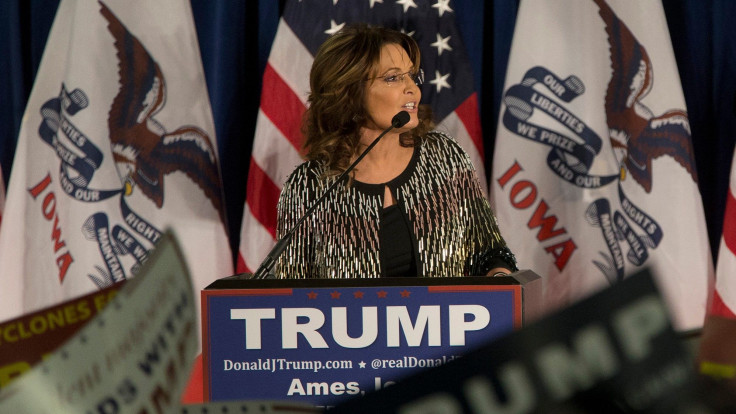 Sarah Palin endorsed Donald Trump on Tuesday, taking the podium to decry the Washington establishment "turning safety nets into hammocks," complacency over unauthorized immigration, and other issues. Vocally cognizant of the media frenzy she was about to ignite, Palin took the stage to address a crowd of Trump supporters at the Hansen Agriculture Student Learning Center at Iowa State University in Ames, Iowa. Before Palin took the stage, Trump claimed that China's education system, governed by the central authority of the Chinese Communist Party is "better," and then in the same breath blamed the failings of the U.S. education system on the involvement of "bureaucrats."
Palin's remarks had a similar tone, at one point denouncing businessmen and "croney capitalists" that benefit from low wage immigrant labor, while at another point touting Trump's success (as a construction developer and hotelier who has admittedly contracted unauthorized laborers) as a model for society.
She also took passionate jabs at the GOP establishment, who in 2008 elevated her to national prominence as Arizona Senator John McCain's running mate. Palin spoke about being "sent through the wringer" of media scrutiny during her candidacy (she was unable to answer basic questions about foreign policy).
Here are the top 10 most interesting quotes from Palin's speech at the rally.
1) Palin made analogy about Trump's work in the private sector "He doesn't get he high off of opium -- other people's money -- like the dopes in Washington," perhaps overlooking the candidates vastly inherited wealth.
2) Palin imitated Trump: "'Huuugely I've succeeded', he says, 'and I want you to succeed, too,'" adding that Trump is a "self-made man" and that "he builds things, big things, that touch the sky."
3) "He is the master at the art of the deal!"
4) On Trump's potential as Commander-in-Chief: "No more pussyfooting around! our troops deserve the best."
5) "Are you ready for a commander in Chief who do their job and go kick ISIS' ass?"
6) "He is from the private sector, can I get a hallelujah?" (Palin has been a professional politician and commentator since around 1992).
7) On the establishment: "it can't be salvaged, it must be savaged."
8) Repeating her 2008 catch-phrase "He's going rogue, left and right, that's why he's doing so well."
9) On cheap immigrant labor: "it's for croney capitalists to be able to suck off of them," she said, adding that "illegal immigration that competes for your jobs,"
10) On political correctness: "they've been wearing this political correctness kinda like a suicide vest."
Instead of ceding the stage entirely, Trump stayed on standing next to his newest booster. After she finished her speech, Trump thanked his special guest and her husband, Todd.
"I just wanna thank Sarah and Todd --- just amazing people. just from day one I said if I ever do this I'm gonna have to get her support," he said, before he and Palin exited the stage to the Survivor song "Eye of the Tiger."
© 2023 Latin Times. All rights reserved. Do not reproduce without permission.