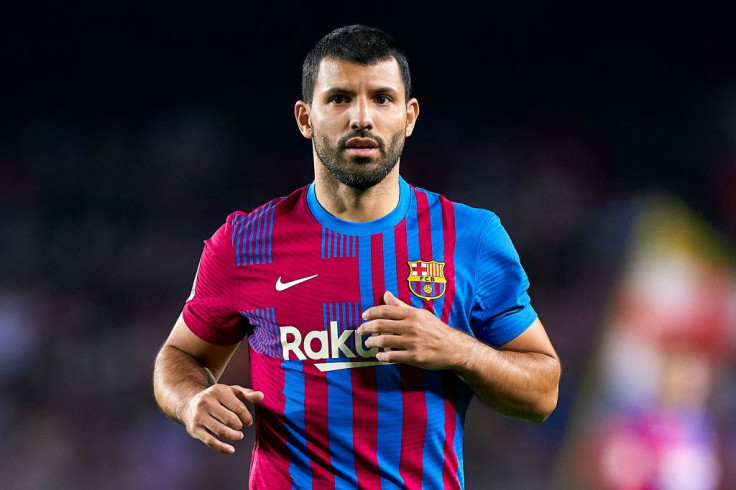 Sergio Aguero, one of the world's deadliest strikers for a long time and former Argentina player, was spotted at training with his former teammates ahead of World Cup final against France.
Sergio Aguero, the Manchester City legend, and one of the world's deadliest strikers scored over 400 goals for club and country and was a threat to any defense. Aguero played in the 2010, 2014, and 2018 World Cups for Argentina. However, he has been deprived of the chance of making it to a fourth after he announced his retirement from the sport last Dec due to a heart problem, Goal reported.
Aguero left Manchester City in the summer of 2021 and joined Barcelona. However, he only managed five appearances for the La Liga giants.
After he suffered chest pains and dizziness, he then spent three months out as doctors conducted tests to find out the cause of this problem. After conducting several tests, doctors found that Aguero had cardiac arrhythmia, which is an irregular heartbeat caused by a disruption to the electrical signals.
If not treated or diagnosed, the condition can lead to strokes. Aguero decided that the risk to his health wasn't worth it and officially retired from football, G3 Football reported.
"When it happened, I thought it was nothing and that it was going to be fine," Aguero talked about the incident.
"But when I got to the hospital and they left me in a small room alone with a bunch of monitors around me, I realized something was wrong. And after two days in the hospital, I started to get nervous. When they did the first physical test on me in the clinic, the medical staff called me to tell me there was a very big possibility that I wouldn't be able to keep playing."
"From that point, I was processing it all, but it wasn't easy. One of the doctors told me straight up: 'That's enough'".
Aguero was 33 when he announced his retirement and had scored six goals in 19 appearances during his final season for Man City.
Aguero has become a key mascot for his country and has been seen celebrating with his old teammates during the World Cup in Qatar. He was spotted accompanying his former Argentina teammates in training as they continued their preparations for the World Cup final against France scheduled to be held on Sunday, Dec. 18.
Aguero was full of praise for Argentina after they defeated Croatia with a 3-0 win in the semi-finals.
"They played a very calm game, they waited for the moment. Because Argentina, until the first goal, didn't press as much, and they had possession but they didn't do much either. I think that after the 2-0 Croatia was already tired. They fell apart," he said.
Aguero will be cheering on the national team on Sunday when they challenge France for the trophy.
© 2023 Latin Times. All rights reserved. Do not reproduce without permission.