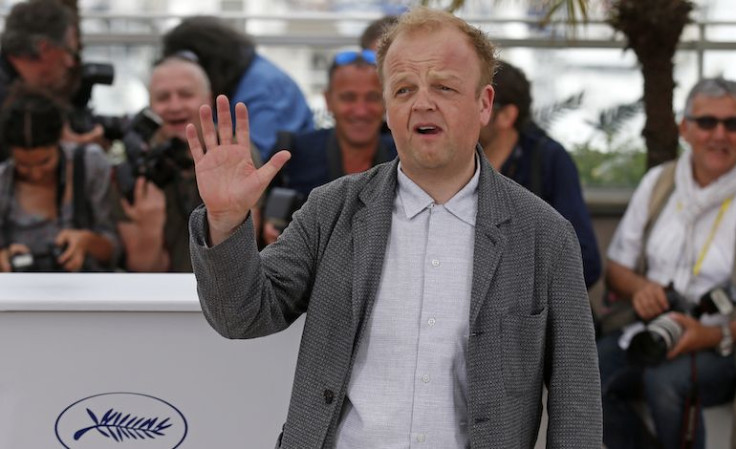 The fourth season of "Sherlock" has found its villain. According to Den of Geek, actor Toby Jones ("Captain America: The Winter Soldier") will join the cast in as the season four villain.
The "Sherlock" production team is staying quiet about the details of Jones' character, but BBC did reveal that the English actor would be appearing as a villain in the second episode of the three-episode season. Jones vaguely spoke of the role saying, "I'm excited and intrigued by the character I shall be playing in Sherlock..."
Both creators gave a bit more information on Jones' arrival to the "Sherlock" series. Steven Moffat said, "Delighted to have Toby Jones on board, bringing to life one of Doyle's finest villains." While the other co-creator and series star Mark Gatiss added, "We're thrilled to welcome one of our finest actors to the Sherlock family. I know Toby will embrace the part with true relish!"
This is exciting news as Jones is perhaps one of the best character actors currently working in both British and American film and TV. The actor's most notable role is that of the nefarious Swiss biochemist Arnim Zola who appeared in "Captain America: The First Avenger," "Captain America: The Winter Soldier," and briefly in ABC's "Agent Carter" TV series.
Other notable roles include the voice of Dobby in the "Harry Potter" film series, David Pilcher/Dr. Jenkins in "Wayward Pines" and Alfred Hitchcock in "The Girl."
We can't wait to get more details regarding "Sherlock's" fourth season, but until that time check out these other 10 exciting details below:
1. We know who is returning for season four - So far, the confirmed cast includes leads Benedict Cumberbatch and Martin Freeman and regulars Amanda Abbington as Mary Watson, Louise Brealey as Molly Hooper and Jonathan Aris as Anderson. We can expect more of the regulars to turn up as filming progresses, including the likes of Una Stubbs and Rupert Graves.
2. A legendary story to be re-told - Gatiss has revealed some exciting details regarding the upcoming special for season four. According to Hypable, Gatiss strongly hinted that the episode will retell Arthur Arthur Conan Doyle's story of "The Red-Headed League." The hint comes from Gatiss tweeting an image of Jabez Wilson Pawnbroker with the comment, "We Gingers must stick together...#Sherlock."
3. Season four will be darker - Moffat spoke with Entertainment Weekly saying the production team wants to take the "Sherlock" series somewhere its never been in previous seasons.
"We're going to try to take it somewhere we've never been before — and I don't mean outer space. It will be challenging place to go. We always start with a re-introduction that builds toward a darker climax — we might just be going darker [from the outset]. We got a very, very good set of ideas."
4. Irene Adler may return! - iDigital Times reports that Irene (Lara Pulver) may return to "Sherlock" for season four. If you do not remember Irene, she was a love interest to Sherlock and much more than that during the early season. Pulver spoke of returning with RadioTimes saying:
"Sherlock is Mark Gatiss and Steven Moffat's passion project. If it fits to have her back, I know they'll write it; if it doesn't, I trust them to get it right."
Adler was a dynamic character and her return would be very interesting no matter what the plot is for the fourth season.
5. Janine Returns! - Another love interest of Sherlock's and Mary's close friend, Janine will return for the upcoming season. According to Moffat she will definitely be back and her and Sherlock will be friends. The writer told IGN:
"He likes her, though. He'll see her again. They'll be pals. I loved Yasmine's performance as Janine -- she still likes him in the end. At some point, you know, if Sherlock Holmes has to go to a function and he needs a date, he'll phone her up. Now, he'll not expect her to say no. She'll be very cross with him, but she'll show up, and they'll have a good time. They will, because he likes her."
6. Tom Hiddleston may join the cast - The "Avengers" villain is said to be joining the cast of "Sherlock" for season four. Online speculations have said that he will join as the third Holmes brother. In a Q&A in Brazil, Gatiss, who also plays Mycroft Holmes in the series, joked about the idea when asked if Hiddleston would be considered for the role.
7. Future seasons are already planned! - Moffat told the Guardian that he and Mark already planned ahead for more seasons saying, "Rather excitingly, Mark and I, for no particular reason, we just got out of the rain and sat at the top of the [Sherlock] production bus … and we just started plotting out what we could do in the future." He also added that there was no plan for a movie as each episode is a feature length itself.
8. Will Mary Die? - FashionNStyle reports that season four may see the end of Watson's wife, Mary Morstan. While anything is possible we do not think the creators or producers would get rid of a dynamic female character such as Mary, well not anytime soon anyway. What's more, Martin Freeman has revealed that the show will follow the same path.
"While we play fast and loose with the original stories, we generally follow the trajectory of what Conan Doyle did," said Freeman to the UK's Telegraph. "So [Watson] gets married, and then Mary dies — so at some point presumably she'll die."
9. Moffat reveals season fours theme - "The first series was all about the beginning of their friendship. Second about the formative stages, the love and fear and loss and all that. The third was good days, me and my pal and my pal's wife. Those are golden days. The missing element in a lot of Sherlock Holmes adaptations is allowing it to be funny," Moffat told Entertainment Weekly.
"[Season 4] is going to be … I suppose you'd say … consequences," he revealed. "It's consequences. Chickens come to roost. It's dark in some ways—obviously it's great fun and a Sherlock Holmes romp and all that—but there's a sense of things … coming back to bite you," he added.
10. Moffatt said that fans will be "desperate for series five" - "We're certainly going to put them through the mill," Moffat teased in regards to fans watching the fourth season. "It's going to be more of an emotional upheaval. Hopefully enjoyable and fun, and all the things 'Sherlock' must always be. It will be tough at times. Maybe what's the word? It will be a tougher series."
As for the launch date for the fourth season of "Sherlock," we can expect the series to arrive sometime in 2017 as filming just began in early April of this year.
© 2023 Latin Times. All rights reserved. Do not reproduce without permission.