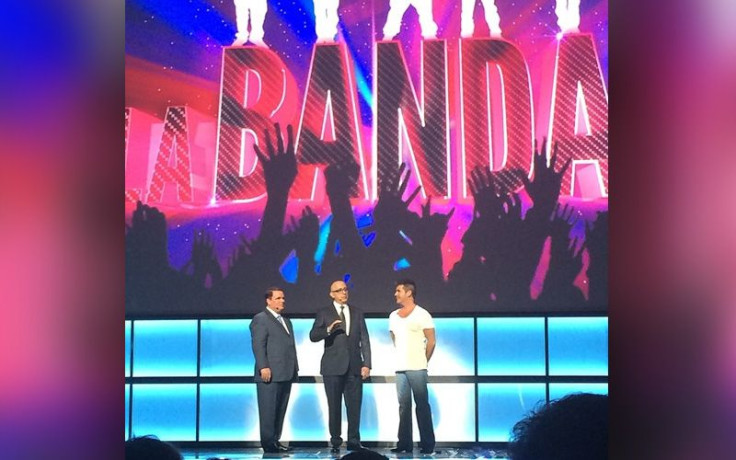 Univision executives and talent are in New York City this week at the annual Upfront presentation event where they give a preview to advertisers of their upcoming programming. One of the big announcements this afternoon was a new music-based TV and multi-media reality show called "La Banda." The format has Univision and Simon Cowell's Syco Entertainment teaming up in a historic alliance. "La Banda" will search the US and Latin America to put together the ultimate Latino boyband. Representing Mexico, Central America, South America, the Caribbean and Puerto Rico, contestants will compete for their place in "La Banda" and for a coveted recording contract with Sony Music Latin, label home to the most prolific Latin music artists, along with Syco Music, the recording label for the world's biggest selling boyband - One Direction.
Cowell made an appearance on stage and said: "I'm delighted to be partnering with Univision on this new format. They are fantastically ambitious and most importantly for 'La Banda' they are totally focused on discovering and creating the next music superstars. There is a huge opportunity for this band and we are going to be giving the power via this show to the millions of teenage fans." "La Banda" is set to debut on the Univision network in 2015. "Univision's collaboration with Simon Cowell's Syco Entertainment is part of our commitment to innovation and to raising the bar in entertainment for our audiences and partners," said Alberto Ciurana, president, Programming and Content, Univision Communications Inc. "'La Banda' will tap into Hispanic America's passion for music unlike any other program on television and will bring millions of fans the next international musical sensation."
Univision also gave a preview of upcoming telenovelas slated for primetime like "La Gata" starring Maite Perroni and "La Malquerida" with Victoria Ruffo, Ariadne Diaz and Christian Meier. Perroni's telenovela is the story of Esmeralda, a young woman who lives in the poor neighborhood of La Barranca. The landfill is a place where many, like her, live in abject poverty without the protection and love of a family. Esmeralda becomes friends with a young man from a good family and, with time, they fall in love – a love that has to remain hidden from the young man's family. "La Malquerida" is the story of Acacia, a young girl whose father is killed in a terrible accident, and whose family estate is in debt. Esteban, a handsome and capable employee, asks her mother, Maria to accept his help in saving the estate. Esteban and Maria's working relationship becomes one of mutual love. All seems well, except for one thing: Acacia cannot accept her mother's new love, and as she develops into a beautiful young woman, Esteban discovers he carries a secret passion for her, as well.
© 2023 Latin Times. All rights reserved. Do not reproduce without permission.