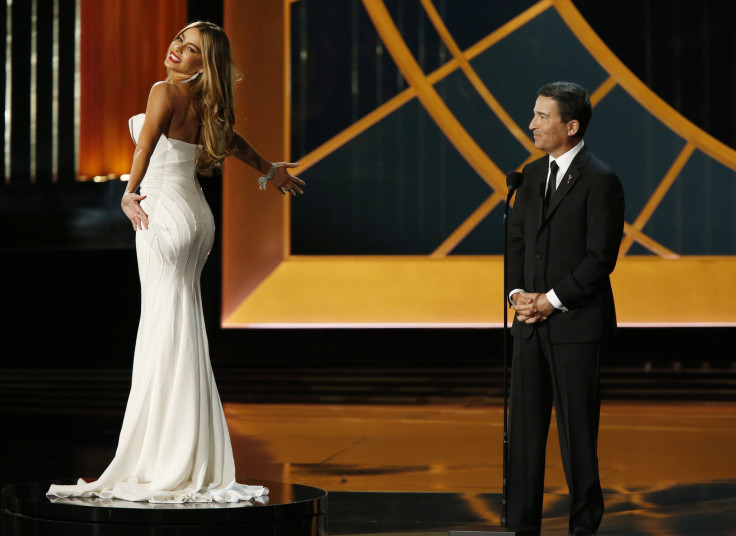 Last night, during the 66th Primetime Emmy awards, Sofía Vergara showed off her gorgeous curves on a rotating pedestal while the usually-boring speech of the president of the Academy of Television Arts & Sciences, Bruce Rosenblum, was taking place. It's really not Bruce Rosenblum's fault that it's boring, he was even talking about TV's commitment to diversity, but let's face it, no one is really interested in non-celebrity appearances on this show. Apparently the producers thought inserting the "Modern Family" star in any way, would get their viewers to "stay with them" through the whole thing. The audience thought very differently. Criticisms about the skit being sexist and demeaning were quick to flood social media. Time.com said it was "blatantly sexist trope." Huffpo said it was, "A very troubling turn," and Jezebel furiously denounced it saying, "She was treated like a literal object."
Vergara, who's always been so open and easy to talk to, was quick to react and respond: "I think it's absolutely the opposite. It means that somebody can be hot and also be funny and make fun of herself. I think it's ridiculous that somebody started this—I know who she was—who has no sense of humor [and should] lighten up a little bit." This left us wondering if she was referring to a specific person or a type of woman who would misconstrue something like this.
Even after all the controversy, Sofía wasn't going to miss the chance to enjoy herself after her show "Modern Family" had won the Emmy for Best Comedy Series for the fifth consecutive time. The actress was spotted having a blast at the HBO party, brushing off all the negativity on the dance floor, just as we'd expect she would do.
© 2023 Latin Times. All rights reserved. Do not reproduce without permission.