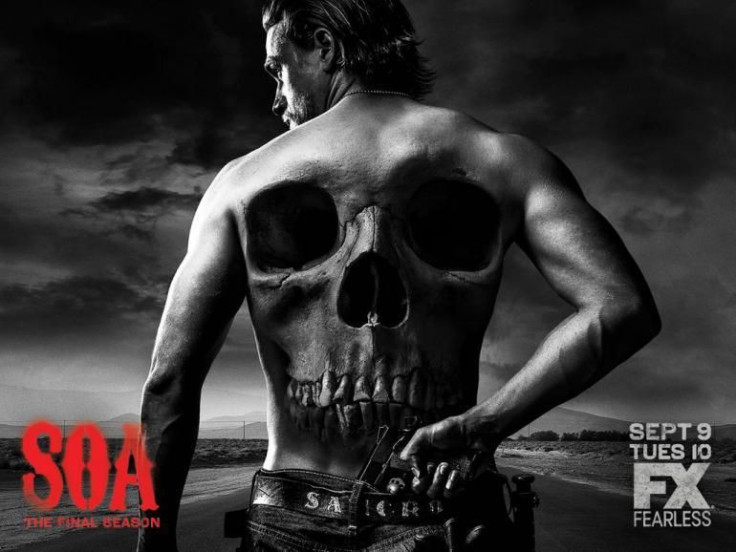 The highly anticipated Season 7 premiere of "Sons of Anarchy" premieres tonight on FX at 10 p.m., and following the shocking Season 6 finale episode which revealed the death of Tara, and the jailing of Jax, the future of SAMCRO and the bike gang's president are in serious peril. The premiere episode, which has an impressive run time of 1 hour and 45 minutes, is titled "The Black Widower" and considering Jax's most recent situation, fans can assume that after losing his wife, Jax's soul has turned "black." Despite Jax being jailed in the pervious season finale, "The Black Widower" will begin with Jax being released from prison, and after encountering a white supremacist named Ron Tully during his time behind bars, portrayed by Marilyn Manson Jax's plan for vengeance is in full swing. Despite being hell bent on avenging his wife, Jax is not aware that his own mother Gemma is responsible for her death; instead he has blamed her brutal murder on a rival gang.
Fulfilling the Season 7 promo images prophecy, Jax has lost any humanity he had left following the death of Tara and now has morphed himself into the living and killing Grim Reaper. Jax pushes SAMCRO into a brutal war between rival MC clubs, as Gemma harbors her deep secret, making every move she can to keep Juice safe, especially after aiding in the clean up and cover up of Tara's now infamous fork murder.
"Sons of Anarchy" executive producer and director Paris Barclay left fans in shock after he revealed that a major character death will occur in each and every episode of Season 7. Barclay revealed to fans that a major character is set to die in every episode of this season, and with 13 episodes set to take place that's a lot less cast at the end of "Sons of Anarchy." Barclay confirmed the deaths stating, "I think this season should be a roller coaster ride. Every episode this season is packed with more plots, more story and more characters than we've done before. Kurt really is getting two seasons in one, and in almost every episode now, someone is dying, so that makes it a little bit harder to shoot because we have to keep saying goodbye."
Be sure to tune in tonight to watch the "Sons of Anarchy" Season 7 premiere "The Black Widower" live on FX at 10 p.m. In addition to watch the premiere episode online, fans should head on over to fxnetworks.com where full episodes of "Sons of Anarchy" are available to live stream online for free.
© 2023 Latin Times. All rights reserved. Do not reproduce without permission.