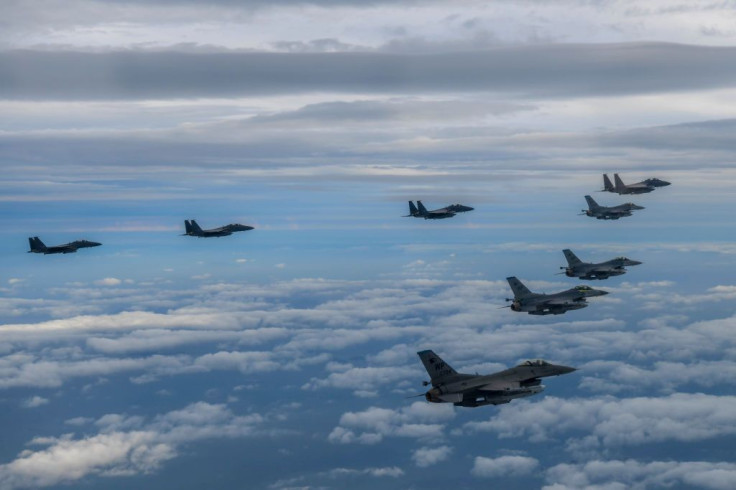 In reaction to ongoing U.S.-South Korean military exercises that it sees as an invasion practice, North Korea reportedly launched a short-range ballistic missile toward the sea on Sunday, according to its neighbors.
Despite the largest joint military drills between the United States and South Korea in years, the North continued to test missiles, demonstrating its resolve to maintain its position.
However, a lot of specialists assert that North Korea's larger goal of increasing its arsenal of weapons, gain international recognition as a nuclear state, and get international sanctions lifted.
According to estimates made by South Korea and Japan, the missile fired from the northwestern Tongchangri region of the North soared across the nation before it touched down in the seas off its east coast.
According to them, the missile traveled about 800 kilometers (500 miles), which indicates that it could have been aimed at South Korea.
The top nuclear envoys from South Korea, Japan, and the United States discussed the launch over the phone and firmly denounced it as a provocative act that endangers regional stability.
According to Seoul's Foreign Ministry, they decided to improve their cooperation to respond to the North's action with a strong international statement.
The military of South Korea stated that it will carry out the remaining joint exercises with the United States thoroughly and that it will remain ready to "overwhelmingly" react to any provocation by North Korea.
According to the South Korean Defense Ministry, the U.S. on Sunday conducted a joint exercise with South Korean warplanes using long-range B-1B bombers.
The deployment of B-1Bs, which are equipped to transport massive conventional weapons payloads, is extremely sensitive to North Korea.
It responded to the B-1B flights in February by test-launching missiles with possible ranges to hit some South Korean air bases.
Toshiro Ino, the vice minister of defense for Japan, stated that no complaints of damage to ships or aircraft were made after the missile touched down outside of Japan's exclusive economic zone.
About North Korea's highly maneuverable, nuclear-capable KN-23 missile, which was based on Russia's Iskander missile, he said that the projectile most likely displayed an irregular trajectory.
According to the U.S. Indo-Pacific Command, the most recent launch doesn't represent an immediate threat to American territory or its allies.
It also stated that the United States security commitment to South Korea and Japan remains "ironclad" and that the North's recent launches highlight "the destabilizing impact of its unlawful" weapons programs.
Since the start of the combined military exercises between the militaries of the United States and South Korea last Monday, the North has conducted three rounds of weapons tests.
The drills, which involve field activities and computer simulations, will continue activities and computer simulations, remain until Thursday.
The field exercises are the most significant of their kind since 2018.
The longest-range intercontinental ballistic missile North Korea has ever tested, the Hwasong-17 is intended to hit the U.S. mainland. Kim Jong Un, the leader of the North, was cited by its state media as saying that the ICBM launch was intended to "strike fear into the enemies."
On Thursday, the North's first ICBM launch in a month sparked vehement objections in Seoul, Tokyo, and Washington.
It was carried out just hours before South Korean President Yoon Suk Yeol flew to Tokyo for a closely watched summit with Japanese Prime Minister Fumio Kishida.
To combat North Korea and other challenges, Yoon and Kishida decided to restart their defense conversation and further strengthen security cooperation with the United States during the summit.
North Korea has missiles that place Japan within striking distance.
North Korea launched an intermediate-range missile over northern Japan in October last year, forcing communities there to issue evacuation alerts and halt trains.
According to Ino, the Japanese vice defense minister, Kishida directed an immediate response following Sunday's launch, including close cooperation with South Korea and the United States.
© 2023 Latin Times. All rights reserved. Do not reproduce without permission.