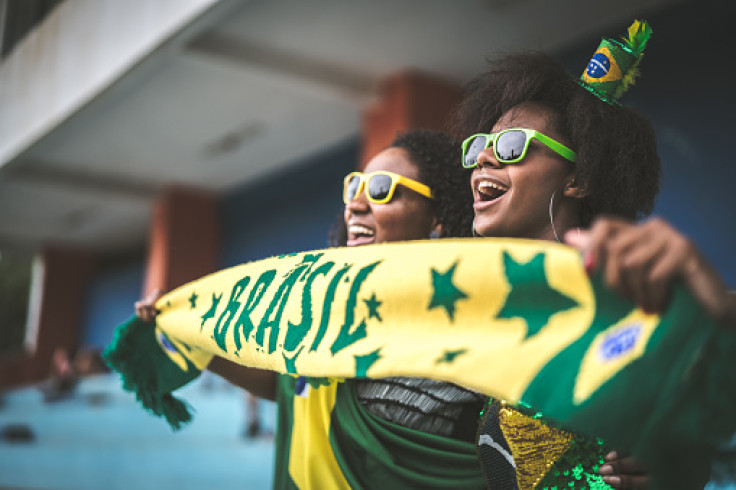 Spanish and Brazilian football federations unveiled their proposal on Tuesday for an anti-racism friendly match scheduled at Santiago Bernabeu in March 2024. The initiative was prompted by the widespread condemnation following the mistreatment of Real Madrid's Vinicius Junior.
Vinicius Junior, the 22-year-old Brazilian winger, was subjected to racial abuse from Valencia supporters in May. His defiant reaction, confronting fans from a particular section, ignited global outrage.
During the announcement of the game at Madrid's stadium, Spanish federation president Luis Rubiales and his Brazilian counterpart Ednaldo Rodrigues were accompanied by Spain's national team players Ansu Fati and Rodrigo Moreno.
"I want to announce that the match against racism between Spain and Brazil will be at the Santiago Bernabeu," Rubiales told a news conference.
"It's the ideal stage for an encounter between two of the best teams in the world."
Rubiales further mentioned that the timing of the match in March would be contingent on Spain's direct qualification for Euro 2024. In the event that play-offs were necessary, those dates could potentially overlap, requiring adjustments to the schedule.
"(The game is) a way of saying 'enough'," said Rodrigues.
"It protects joy in our football, (and shows) this intolerance and attitude are unacceptable."
Vinicius issued a strongly worded statement after he was abused, saying: "Today, in Brazil, Spain is known as a country of racists."
Leeds forward Rodrigo, born in Brazil, was happy about the arrangements for the match, given the slogan "The Same Skin".
"I think it's a great initiative on the part of both federations," said Rodrigo, Firstpost reported.
"It's very important to use the power of football to denounce and fight against discrimination."
In June, lawmakers in the Brazilian state of Rio de Janeiro passed a law aimed at addressing football matches marred by racist abuse. The legislation was introduced in response to the outcry over the mistreatment of Vinicius, a Rio de Janeiro native.
Fans who were found guilty of racially abusing Vinicius were recently handed stadium bans and fines by Spanish authorities, demonstrating a firm response to such behavior.
© 2023 Latin Times. All rights reserved. Do not reproduce without permission.