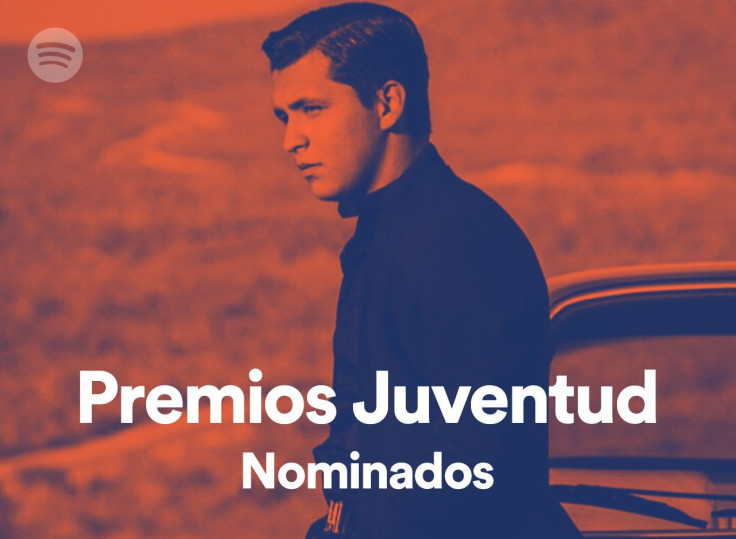 Spotify is inviting Latin Times readers to get ready for tonight's big award show with the 'Premios Juventud Nominados' playlist. From familiar names to fresh faces, the playlist with close to 50 songs includes some of Latin music's favorite artists, including Christian Nodal, Bomba Estéreo, J Quiles, Bad Bunny, and Ozuna, to name a few.
Alejandra Espinoza, Danilo Carrera, Jesse & Joy, Chyno and Leslie Grace are all set to host the main event with appearances from stars throughout the night including: Jake T. Austin, África Zavala, Bárbara de Regil, Natalia Jiménez, Adrián Martín, and many more. Performing for the first time in a Latin network in the U.S. is Iggy Azalea who will bring her new hits to the party.
Also joining the lineup is DNCE, Maluma, J Balvin, Bad Bunny, Gente de Zona, De La Ghetto, Wisin, Farruko, Jacob Forever, Ozuna, and Zion y Lennox. The duo that was Chyno y Nacho will be going solo and Calibre 50 and Ulices Chaidez y sus Plebes will also be at the event. Other confirmed performers include Enrique Iglesias, Yandel, Silvestre Dangond, Carlos Rivera, Arcángel and Sebastián Yatra.
This year's Premios Juventud's theme is "Betting on the Future," expanding its focus to include social causes that have a direct impact on Hispanic communities by adding the "Agentes de Cambio" (Agents of Change) awards category, inspired by artists and presenters who have become energetic spokespersons for various causes. Six Hispanics under 30 years of age with significant achievements throughout the country will receive a special recognition on stage for their grassroots efforts in favor of the environment, education and social inclusion.
Premios Juventud 2017 will broadcast live from Miami starting at 8pm/7c on Thursday, July 6.
Find below the entire playlist and direct access here:
1. Adiós Amor – Christian Nodal
2. La Bicicleta – Carlos Vives & Shakira
3. Súbeme La Radio – Enrique Iglesias, Descemer Bueno, Zion & Lennox
4. Despacito – Luis Fonsi ft. Daddy Yankee
5. Vente Pa' Ca – Ricky Martin ft. Maluma
6. Chantaje – Shakira ft. Maluma
7. Otra Vez – Zion & Lennox ft. J Balvin
8. Soy Peor – Bad Bunny
9. Me Rehúso – Danny Ocean
10. Egoísta – Justin Quiles
11. Amor con Hielo – Morat
12. Dile Que Tu Me Quieres – Ozuna
13. Besándote – Piso 21
14. Te Regalo - Ulices Chaidez Y Sus Pebles
15. Todo Cambio (Remix) – Becky G ft. Justin Quiles
16. Dime Qué Se Siente – Luis Coronel
17. Felices los 4 – Maluma
18. Tell Me – AXSHN ft. Sofia Reyes
19. Si Va A Doler Que Duela (Pop) – Victoria La Mala
20. Horas Extras – Chiquis Rivera
21. Para Qué Lastimarme – Gerardo Ortiz
22. El Amante – Nicky Jam
23. Escápate Conmigo – Wisin ft. Ozuna
24. Hey Ma – J Balvin & Pitbull ft. Camila Cabello
25. Las Ultras – Calibre 50
26. Shaky Shaky – Daddy Yankee
27. Vacaciones – Wisin
28. Ya No Me Duele Más (Remix) – Silvestre Dangond ft. Farruko
29. A Poco (Versión Sierreño) – Raúl Casillas
30. Me Llamas (Remix) – Piso 21 ft. Maluma
31. Qué Gano Olvidándote – Reik
32. Deja Que Te Bese – Alejandro Sanz ft. Marc Anthony
33. Me Soltaste – Jesse & Joy
34. Tengo Que Colgar – Banda Sinaloense MS de Sergio Lizárraga
35. Tú y Yo – Tommy Torres ft. Daddy Yankee
36. Ya Me Enteré – Reik
37. Afuera Está Lloviendo – Julión Álvarez y su Norteño Banda
38. Reggaetón Lento (Bailemos) – CNCO
39. Sigo Extrañándote – J Balvin
40. A Ver A Qué Hora – Banda Carnaval
41. El Gallero – El Komander
42. Es Tuyo Mi Amor - Banda Sinaloense MS de Sergio Lizárraga
43. Se Defiende – La Septima Banda
44. Siempre Te Voy A Querer – Calibre 50
45. Andas En Mi Cabeza – Chino & Nacho ft. Daddy Yankee
46. Desencuentro – Residente ft. Soko
47. Don't Let Go – Farruko
48. Soy Yo – Bomba Estéreo
49. Tú Sí Sabes Quererme – Natalia Lafourcade ft. Los Macorinos
© 2023 Latin Times. All rights reserved. Do not reproduce without permission.