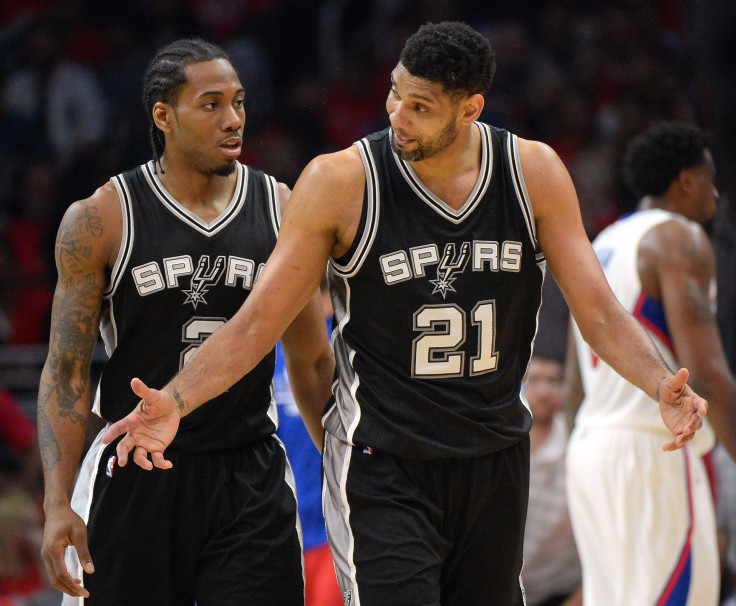 LOS ANGELES – The defending NBA Champions played with desperation on Wednesday night and evened their series against the Los Angeles Clippers at one game apiece after an epic 111-107 overtime victory.
Like a fine wine, Tim Duncan seems to only get better with age. The Spurs big man rebounded from an off game on Sunday and led the Spurs with 28 points and 11 rebounds. It was Duncan's 159th double-double of his playoff career.
Duncan, the consummate professional and 19-year NBA veteran shot 1-for-5 in the fourth quarter and the Spurs blew a 10-point lead before winning in overtime. During a timeout in the final minute of the game, Duncan apologized to his teammates for his paltry shooting.
"I was awful," said Duncan. "I missed two or three layups, I made two or three defensive mistakes, got out of position and gave up dunks. I was awful in that fourth quarter."
Duncan played the last eight minutes of the game and overtime with five fouls and scored four straight points in the extra period to give the Spurs the split in the series before heading back to San Antonio.
"He is just smart," said Spurs head coach Gregg Popovich of Duncan staying on the court. "It has nothing to do with anything else except that he is smart. He knows he had to stay on the court and he figured out a way to do it. He continued to be aggressive, which is pretty amazing."
Kawhi Leonard flashed his 2014 NBA Finals MVP form with 23 points and 9 rebounds and Patty Mills scored 18 off the bench.
"I thought Kawhi did a good job," added Popovich. "Kawhi does a good job on everybody."
Blake Griffin filled the stat sheet for the second consecutive game finishing with his first career playoff triple-double. Griffin had 29 points, 11 assists and 12 rebounds to lead the Clippers, but he had a costly turnover with 11 seconds to go in the game and his team up by two.
"That game is on me," he said sternly in his postgame press conference. "I just got to take care of the ball."
DeAndre Jordan had his best game of the series with 20 points and 15 rebounds and three blocks. He went to the line 17 times as Popovich and the Spurs ran the "Hack-A-DJ" strategy periodically throughout the game.
"I've got to clean some things up," said Jordan about his performance at the line and defensively. "We as a team have to work on some things, but we'll be ready for game three."
Manu Ginobli fouled out with 3:52 remaining in the game and headed for the Spurs locker room. Tony Parker was also missing from the Spurs bench during the 4th quarter as he left the game with an apparent Achilles injury.
The Clippers Achilles heel was their free throw shooting as they shot 20 for 37 from the line. Outside of Jordan, the team was a paltry 14 for 20.
Game three is set for Friday night in San Antonio.
"This is going to be a hell of a series," said Clippers head coach Doc Rivers.
Game Notes:
Former Lakers legend and Clippers general manager Elgin Baylor sat courtside next to Steve Ballmer. Tim Duncan picked up his 5,000th career point in the NBA playoffs during the game.
© 2023 Latin Times. All rights reserved. Do not reproduce without permission.