Steve Harvey faces criticism once again for making Miss Universe winner Harnaaz Sandhu 'meow' on stage.
According to Business Insider, Harvey asked Sandhu: "I hear you do some pretty good animal impersonations. Let's hear your best one."
Sandhu, visibly astonished, said: "Oh my god, Steve, I was not expecting to do this on the world stage." "I have to do this. I have no other option," she joked.
Miss India stated that she would do her best to imitate a cat because she adored them.
"Brace yourself, everyone," she warned to prepare the audience (and possibly herself) for what was to come before Harvey continued questioning the other finalists about their accomplishments. Sandhu then managed a couple of loud "meows" afterward.
Many viewers were taken aback by the scene, wondering why Sandhu hadn't been given a meaningful opportunity to speak more about herself.
Sandhu, an actress and proponent of women's empowerment, helps her mother teach women's health and hygiene at camps. Independent said Sandhu is a professional actress who has been in Punjabi films and is currently pursuing a master's degree in public administration.
The "Family Feud" host's suggestion was met with outrage on social media, with many calling it "culturally insensitive" and "totally unacceptable."
Sarakshi Rai, the Hill's social media deputy editor, tweeted: "OMG, Miss India meowing at Steve Harvey is not what I was expecting to see tonight. Pretty sure the Miss Universe organization could have asked a better question… very frustrating. Still, she was nothing if not confident."
"On another note, I'm tired of Steve Harvey. Miss Universe couldn't find another host that's not culturally insensitive? Lol," wrote Twitter user @ysasantiago.
During the 2015 pageant, Harvey made the mistake of announcing the first runner-up, Miss Colombia, as the winner instead of the true winner, Miss Philippines.
TV Insider said Harvey also made a mistake at the 2019 competition, referring to Miss Philippines when it was actually Miss Malaysia in a video package.
Harvey blamed his newest gaffe on a teleprompter malfunction, as he did in 2019, but fans on Twitter weren't buying it.
This year's annual beauty pageant was held on Dec. 12 in Eilat, Israel.
Sandhu joins Indian stars Lara Dutta (2000) and Sushmita Sen (1994) as the third Indian woman to receive the prestigious award.
Miss Paraguay Nadia Ferreira and Miss South Africa Lalela Mswane were the two finalists at Miss Universe 2021.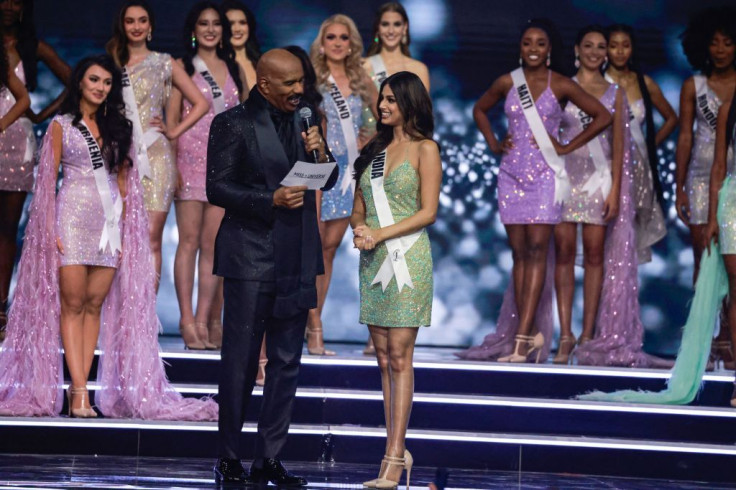 © 2023 Latin Times. All rights reserved. Do not reproduce without permission.