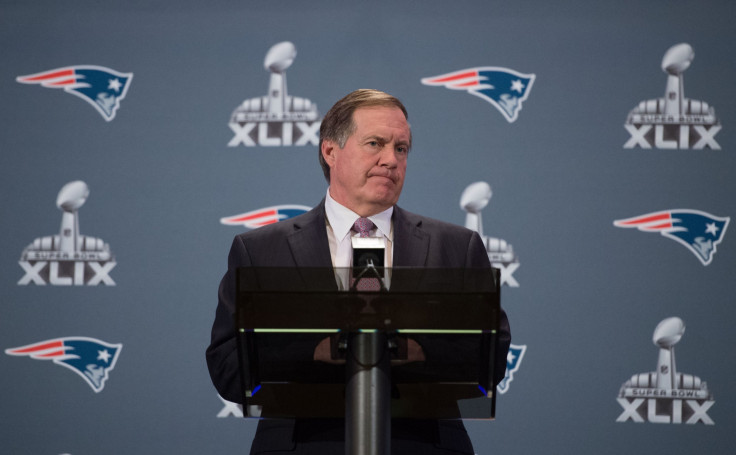 This Sunday marks an NFL showdown for their ages when the league's perennial dynasty franchise the New England Patriots take on the defending champion Seattle Seahawks. The AFC and NFC champions will collide on the sport's biggest stage, Super Bowl XLIX. Before we go into the week ahead and everything you need to know about the big game, let's look back at how both teams got here.
The New England Patriots are currently submerged in another scandal, but deflating moments aside, this has been the best team in the NFL all season. After a 41-14 week four loss to Kansas City, the Patriots ran off seven consecutive victories and sealed up home field advantage throughout the AFC playoffs by Christmas. After overcoming two 14-point deficits in the divisional round against Baltimore, New England crushed the Indianapolis Colts 45-7 in the AFC Championship to punch their sixth Super Bowl ticket in the Bill Belichick/Tom Brady era.
Last year's Super Bowl champion Seattle Seahawks have had an up and down year. Despite finishing with a 12-4 record (the same as New England's), the Seahawks had a much more tumultuous rode to the Super Bowl. Similarly, after losing to Kansas City in week 11, Seattle won six consecutive games to end the season and got help by other NFC foes in order to steal home field advantage throughout the playoffs.
They would need the heralded 12th man too, after trailing Green Bay 16-0 at halftime of the NFC Championship game. The Seahawks scored two touchdowns, converted a fake field goal and onside kick in the final 2:09 of regulation to win the game in overtime on a 35-yard bomb to Jermaine Kearse. Seattle seems to shine the biggest when the lights are the brightest and last year they dominated the Denver Broncos 43-8 in New York City. Will they do the same on Sunday? Or will they be tested again like last week?
The Super Bowl will be broadcast worldwide starting Sunday, February 1st and is expected to be seen by over 120 million people. It will air on NBC, and can be viewed in a variety of ways including, television, computer, tablet and mobile phone. Here is everything you need to know about Super Bowl XLIX:
Date: Sunday, February 1st, 2015
Time: 6:30 PM EST
Where: The University of Phoenix Stadium in Glendale, Arizona
Television: NBC
Announcers: Al Michaels and Chris Collinsworth
Live Steam: The game can be streamed live on the NBC Sports website here. It can also be watched live on your tablet and mobile device using either the NBC Sports app or the NFL mobile app.
© 2023 Latin Times. All rights reserved. Do not reproduce without permission.