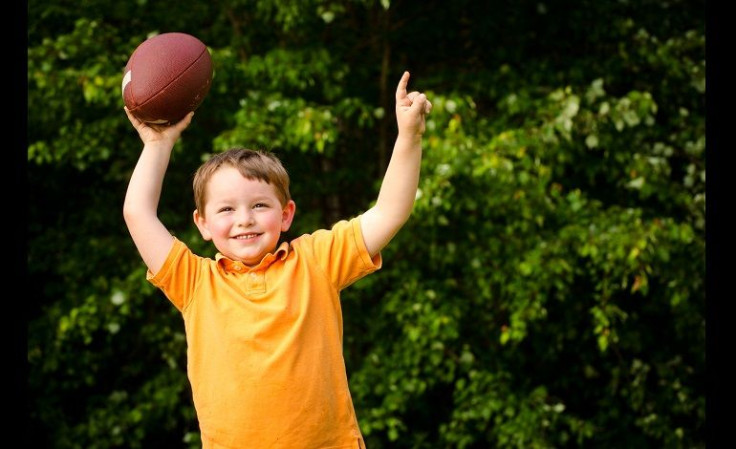 Super Bowl Sunday: It's all about football, right? Well, it's also about food. One of the biggest let's-get-together-and-party days of the year calls out for good food and commercials to watch besides the game.
There will be lots of pizza and wings, dips and salsas, beer and soda. Super bowl Sunday has many of us fluffing couch cushions and buffing TV screens in anticipation. I
f you are hosting a Super bowl party this year, we have some suggestions to keep the kids safely entertained while the bigger kids enjoy some beer,good food and yell at the refs on TV. Check out some of our recommendations for your younger football fans:
Craft table time. Add a few other options to the craft table. Free downloadable coloring pages are all over the internet for inspiration. We like these simple designs found on TwistyNoodle.com.
Let the kids decorate. Get out some pens or crayons in team colors, paper, scissors, glue sticks, a stapler etc.Pick an out-of-the-way table for the work zone and give them a specific area to decorate, perhaps around the food table, to keep the chaos contained.
Origami flick football Super Bowl. Host your own flick football Super Bowl game! Kate Miller-Wilson at lovetoknow.com put together some easy-to-follow instructions and game rules.
Commercial play. For the more focused kids who want to hang out and watch the game, break out the Commercial Bingo. The folks at dltk-kids.com have free customizable cards to download, but you can certainly make your own. Instead of numbers, use the perennial commercials — cars, soft drinks, pizza, movie trailers etc. You can also play a football trivia game, using general questions about the sport, or get more specific to the day's game. Keep the questions simple, things the kids can find out by watching, like "What color is the penalty flag?" or "Name the quarterbacks."
Face paints. Grab some face paints in the team colors to let the kids gear up for the game in style. This year the Seahawks (blue, silver and green) are playing the Patriots (blue, silver, white and red).
Football themed Coloring Pages: Print out some coloring pages of Football players, footballs and more and they will be entertained the whole time www.coloring.ws/football.htm.
Homemade Football Banner Kids can set the stage for a victory this Super Bowl Sunday by creating a cloth and ribbon football banner. Older kids can help with the hand stitching and littler ones can help with the gluing. The detailed directions at Two Twenty One make it an easy crafts project that will occupy and amuse.
Football Bingo So the kids will actually be watching them game? No kidding! They'll be engaged and anticipating each call with this fun game. Studio DIY supplies you with printable bingo cards—all you need are the popcorn kernels or M&Ms to use as markers.
© 2023 Latin Times. All rights reserved. Do not reproduce without permission.