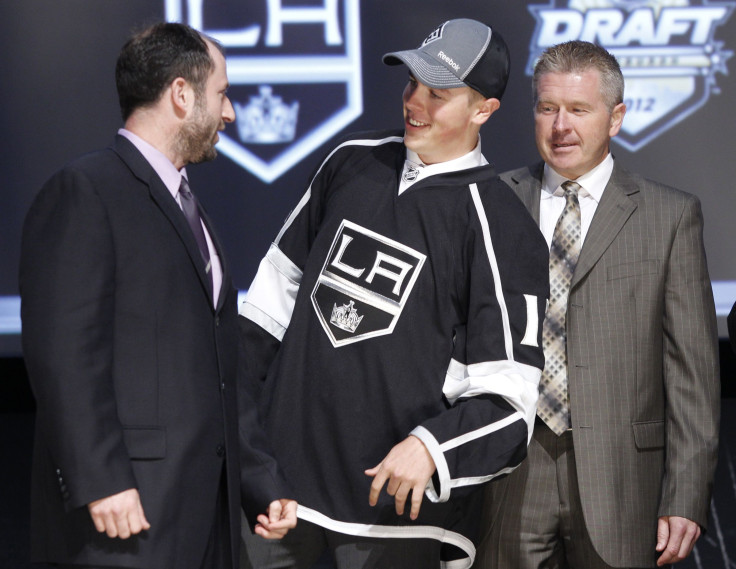 LOS ANGELES -- The Los Angeles Kings have signed forward Tanner Person to a two-year contract extension the Kings announced on Thursday. But, is the 22-year-old hot and cold star worth the investment?
Pearson is a 6 foot 1 inch Ontario, Canada native who has played in 67 career games, all with the LA Kings. He got off to a hot start this season, but cooled off in December and January before breaking his left leg.
Pearson's deal is worth an average of $1.4 million per season over the next two years. Pearson is a member of the prolific, 'That 70s Line' that includes Jeff Carter and Tyler Toffoli. Each member is 30 years of age or younger, providing a formidable offensive trio that could remain in the black and white for many years to come.
Pearson started the 2014-2015 season with 12 goals in his first 42 games before crashing feet first into the boards against the Winnipeg Jets on January 10th. He is expected to miss the remainder of the season with the injury and is a question mark for the playoffs should the Kings make it that far.
If you assume that Pearson would have stayed at the same pace for the remainder of the season had he not been injured, he would have scored roughly 23 goals over the full 82-game schedule. 23 goals for such a young developing forward is outstanding value at $1.4 million per season. However, Pearson has proven to be hot and cold at times and still has some much needed maturing to do.
Pearson was set to become a restricted free agent at the end of this season so with just five games left to play, it was smart for LA to lock him up for the next couple of years. If the Kings can also resign Toffoli to a contract extension, than two years is plenty of time to see if the young forwards are indeed the future of the team. All in all, the deal appears to be fair to both sides assuming Pearson continues his upward trajectory year after year and can stay healthy. How his leg heals will no doubt be imperative to that, but we've seen enough of Pearson on the ice over the past two seasons to know that he has what it takes to be a star in this League. Tell us what you think about the deal in our poll below.
© 2023 Latin Times. All rights reserved. Do not reproduce without permission.