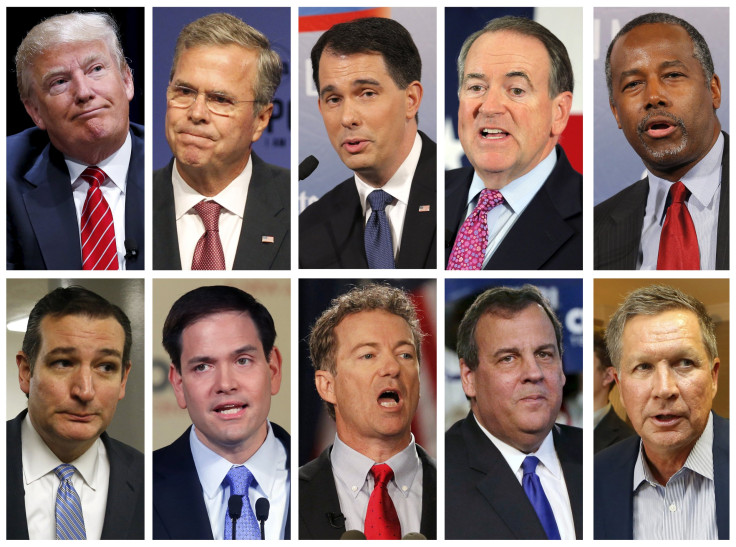 Businessman Donald Trump and Texas Senator Ted Cruz don't have much in common, but they're shaping up to be great partners in the political poker game that is the 2016 Republican primary. Seventeen political players currently sit around the green felt table of GOP politics waiting to check, bet, raise or fold every news cycle. On the table lie polling points, caucus vote and donor dollars. Despite their vast ideological differences -- Ted Cruz is arguably the most conservative politician in America while Donald Trump often has trouble explaining why he's a Republican at all -- they're looking across the table and supporting each other 's game.
But seriously, not a likely pair. The Senator is debating genius with academic accolades -- he graduated from an ivy-league law school and clerked for a Supreme Court Justice. Trump's rhetoric was honed on reality television and Twitter, and he's known for a fortune he grew as much from a family inheritance as from his own business acumen. Cruz is a stalwart Evangelical conservative. Trump is a thrice-divorced Presbyterian who goes to church when he can. Yet the pair have met in person "at least five times" and speak even more often, according to anonymous sources quoted by the Daily Beast . Some of those conversations have been public, and the two may hold campaign events together in the future. They've already discussed it.
"We were talking about immigration and then Ted said to Mr. Trump, 'you should come to the Texas border. Be my guest and we'll go together,'" Cruz spokesman Rick Tyler told the Washington Post.
Neither Ted Cruz nor Donald Trump are remotely viable candidates, according to pollsters. But by feeding off of each other's base of support they might get one or both of them futher in the game than anyone thought possible. Ted Cruz came into the 2016 electoral contest with horrendous odds. In an article entitled "Let's Be Serious About Ted Cruz From The Start: He's Too Extreme And Too Disliked To Win," Harry Eron of pollster guru site FiveThirtyEight.com explained in May that he didn't have a chance. The party establishment hates him, for one thing. And while many in the GOP are considering softening their tone on immigration and LGBT rights, Cruz has vowed to fight against a pathway to citizenship and for gay marriage bans in states where that right is unpopular, and joined Trump's call for the end of birthright citizenship. By many accounts, his whole campaign could be a big bluff -- playing for playing's sake.
"He'll get a ton of media attention, and he'll get to spread his message — which may be all that Cruz is after — but Cruz almost certainly has no shot of winning the nomination, according to every indicator that predicts success in presidential primaries," Eron wrote.
Enter Donald Trump, who sat down to the green felt table in June. Trump was and continues to be called a "clown" for his apparent gaffs, roughly constructed policy ideas and gaudy style. Despite his antics -- or perhaps because of them -- he's the undisputed chip leader. He's at the top of national polls, and if the primary votes in New Hampshire or Iowa happened tomorrow, he'd likely win. Establishment Republicans like Jeb Bush and Rick Perry are trying to get Trump out of the game or at least project themselves as clear alternatives. For candidates who are attempting to broaden the GOP's appeal in a general election, Trump is almost embarrassing to have at the table.
Ted Cruz has a different gameplan. It started with his refusal to refute Trump's conspiracy theory that Mexico encourages immigration of mainly "criminals" and "rapists;" "not their best people." It continued when Trump criticized Republican standard-bearer John McCain for being captured during the Vietnam War, saying the POW and former pilot was "not a hero." In the debates Cruz attacked his Republican colleagues in Congress but not Trump. Cruz may be highly educated, but he's no snob. He's been willing to take on publicity stunts from cooking on a machine gun to trying out for a part on the Simpsons (he nails Ned Flanders).
Like a poker game, the fight for the presidential nomination is often viewed as a zero-sum game with only one winner. If he has more chips, I have less. But like professional poker, the GOP contest offers plenty of prizes for second and third place. Vice presidential nominations ( Jack Kemp ), TV shows (Mike Huckabee), and even support for future campaigns (Ronald Reagan.) There are multiple winners in these games and helps to work together.
In competitive poker, collusion is not allowed. One infamous technique is chip placing, in which players signal the content of their hand by placing a poker chip in a pre-determined position. The subtle cue helps their "opponent" decide whether to check, raise, or fold. But such moves aren't against the rules of presidential politics. Cruz has refused to diss Trump, while Trump has implied that Cruz is on an undisclosed list of people whom he would support as eventual Republican nominee.
Trump continues to surprise us with his high poll numbers. Pollsters are adamant that this doesn't matter. His chips might be up now, but he will fall because... science, logic, etc. And they're probably right.
Trump is not a true player in the game, but a card in the deck. Call him a clown if you like, but he's really a Joker; a wild card that could unpin "every indicator that predicts success in presidential primaries," if not for himself, then for someone else. There's a Koch primary, so why not a "Trump primary?" If his popularity keeps swelling, his blessing might be required by the eventual nominee. Right now, Ted Cruz is the most likely to add Trump's chips to his own stack.
© 2023 Latin Times. All rights reserved. Do not reproduce without permission.