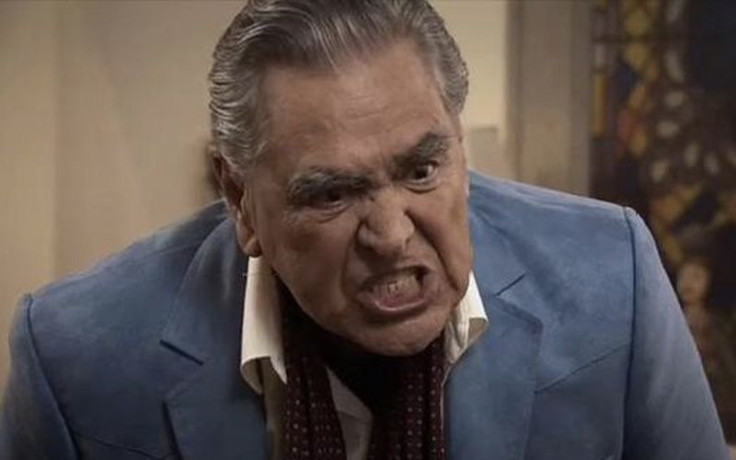 The premiere week of "Que Te Perdone Dios" continues to heat up the Univision nights as this tumultuous story unfolds. Zuria Vega and Mark Tacher star in this Caridad Bravo Adams original that starts off with a backstory. Episode 3 has Renata (Irán Castillo) confronting her father Bruno (Eric Del Castillo) regarding what Macaria (Alejandra Garcia) told her about Pablo (Brandon Peniche). He confirms that he left with the money that he offered him and he allegedly left knowing that Renata was pregnant. Bruno tells his daughter that they will be leaving to Ciudad del Valle. Pablo is waiting for Macaria, but she is nowhere to be found. Lucio (Alejandro Avila) arrives and threatens Pablo with a gun, taking him away to kill him where nobody will be able to find him. Renata can't believe that Pablo just left, but consoles herself in that she will be having a baby to take care of soon.
Lucio makes Pablo dig his own grave. As Lucio gets distracted, Pablo fights for his life and takes his gun away. As he is ready to escape, Fausto (Sergio Goyri) arrives and makes him kneel down in front of him only to shoot him in the head. Bruno assures Macaria that if she does her job right, she will receive a lot of money, which makes her blue eyes glow even brighter. Eight months pass by and Bruno still wants to marry Renata with Fausto. The latter says that he will not raise a child that is not his and Bruno will have to "do something" about the baby. Constanza (Ana Bertha Espín) tells Bruno that Fausto is only interested in Renata because of their money. Bruno doesn't want to leave the "hacienda" to Renata as it will pass on to the next farm worker. Renata gives birth to a girl and names her Abigail.
Bruno is upset when he finds out Renata had a girl. He makes Macaria and offer that she can't resist as it involves a monthly salary. Next thing we know, Bruno and Macaria ar registering Abigail with her last name. The next day, Renata wakes up and doesn't find Abigail in her crib. Bruno tells his daughter that she has to give up her rights to her daughter and allow Macaria to raise her. He threatens her that she will have to follow his orders or else she will never see Abigail again. Macaria asks Renata for her forgiveness as she only followed Bruno's orders. Spoiler Alert! Spoiler Alert! On the next episode Fausto and Renata get married and Bruno dies. Don't miss "Que Te Perdone Dios" Monday through Fridat at 10pm ET/PT on Univision!
© 2023 Latin Times. All rights reserved. Do not reproduce without permission.