On Monday, 91-year-old television evangelist Pat Robertson came out of retirement to defend Russian President Vladimir Putin's move to invade Ukraine. Ultimately, he claims that the Russia-Ukraine crisis is a step towards a global "end times" battle in Israel.
"But is Putin insane?" he asked as he argued that the Russian Invasion is in line with God's wishes. "Well, yes and no. Because he is being driven to move against Israel because God says, 'I'm going to put hooks in your jaws and I'm going to bring you down on them.' Now you get the picture."
"He went into Ukraine but that wasn't his goal. His goal was to move against Israel, ultimately," Robertson, who stepped down as host of "The 700 Club" last fall, added before urging viewers to read the Bible.
He then said that Ukraine is a "staging area" for one of the great Biblical armies that will gather for Armageddon in Israel, according to the Daily Beast.
Citing key passages from prophet Ezekiel regarding nations coming together to rise up against Israel, Robertson pointed to a "choke point" between Bulgaria, Turkey, and Greece. He proceeded to explain why Putin might someday seek to control that point.
"And there is the land that is set up in Ezekiel 38 and you see how Ukraine is key because you see the land bridge between Bulgaria, Greece, and Turkey," he explained per CBN News. "And all of that area is going to be mobilized against Israel in the latter days. And God says, 'I am going to deal with it."
Notably, Robertson predicted the end of the world in 1982, during which he said, "there is going to be a judgment on the world."
In 2006, the televangelist said the Pacific Northwest would be ravaged by a tsunami followed by mass killings in America a year later.
Then again in 2020, after Donald Trump won the re-election, the conservative political activist envisioned that an asteroid would abruptly destroy the earth, USA Today noted. None of these prophecies ever came to pass.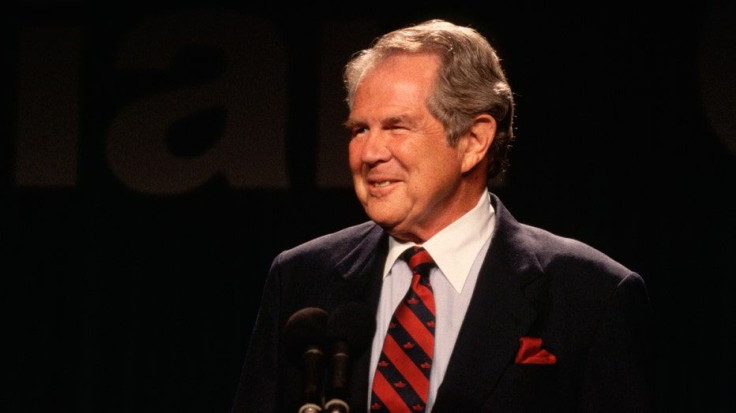 © 2023 Latin Times. All rights reserved. Do not reproduce without permission.