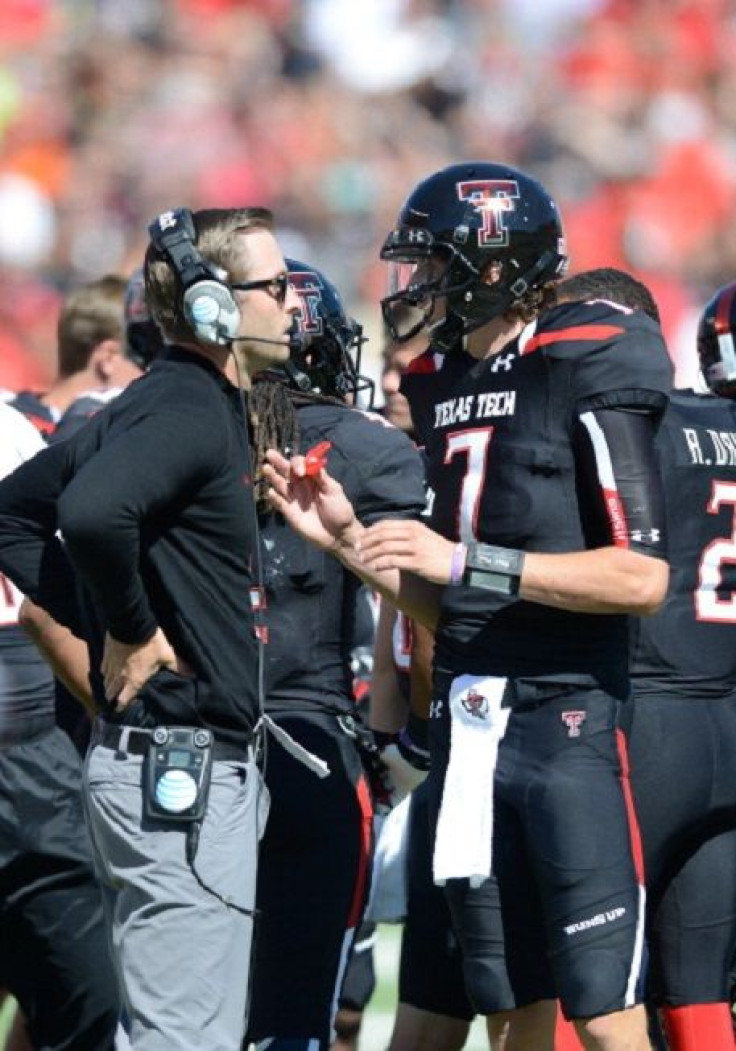 As they continue to light up the scoreboard on a weekly basis, the Texas Tech Red Raiders enter this weekend's match-up against the Oklahoma Sooners as the No. 10 ranked team in the nation. Throwing for over 415 yards per game - good enough for second in the country - the Red Raiders and first year head coach Kliff Kingsbury are able to win games with defense as well. While the offense puts up a whopping 41 points per game, the Red Raider defense continues to serve as the perfect compliment, allowing only 18.7 points per contest. Taking a perfect 7-0 record into Norman, Oklahoma this weekend, the Raiders know they're in for a tough contest against No. 15 OU, a team that ranks No. 1 in stopping the oppositions passing game. The rising coach is confident however in quarterback Davis Webb's ability to lead the team to victory.
"The more reps he gets, the better he gets and the more confidence he gets," Kingsbury said of his freshman quarterback. "It's encouraging to have a young QB like that and have guys step up around him and make those plays. Their defense schematically has changed a bunch from last year. They're very athletic, fundamentally sound and will be a big challenge for a young quarterback. It's a challenge any time you play in that stadium. We'll have to play our best game. The exciting part for me right now is I know we haven't played close to our best game."
Coming off a hard fought 34-19 victory over the Kansas Jayhawks, the Oklahoma Sooners (6-1, 3-1 Big 12) hope to remain in the top portion of the Big 12 standings with a win over Texas Tech. Currently sitting fourth behind Tech, No. 8 Baylor and the Texas Longhorns - who defeated OU 36-20 two weeks ago - Oklahoma head coach Bob Stoops has preached the importance of this game to his team while also making note of the fact that the fans in Norman will play a key part to the team's success against the undefeated Red Raiders as well.
"It'd be awesome if we could recreate that atmosphere, and everybody jump in and do their best to try to affect the game, and, you know, build some excitement and all," Stoops said in reference to the energy-filled crowd during OU's 2008 win over then ranked No. 2 Texas Tech. "We've gotta do our part. It's a lot easier to be excited when you're playing well. We've gotta hopefully give them some things to cheer about and jump in the game."
Oklahoma vs. Texas Tech: DATE, TIME & TV INFO
DATE: Saturday, October 26
TIME: 3:30pm, ET
TV COVERAGE: FOX
LIVE STREAM: CLICK HERE
RELATED: Alabama Crimson Tide Vs. Tennessee Volunteers Live Stream: Can The Volunteers End Alabama's 11-Game Winning Streak?
© 2023 Latin Times. All rights reserved. Do not reproduce without permission.