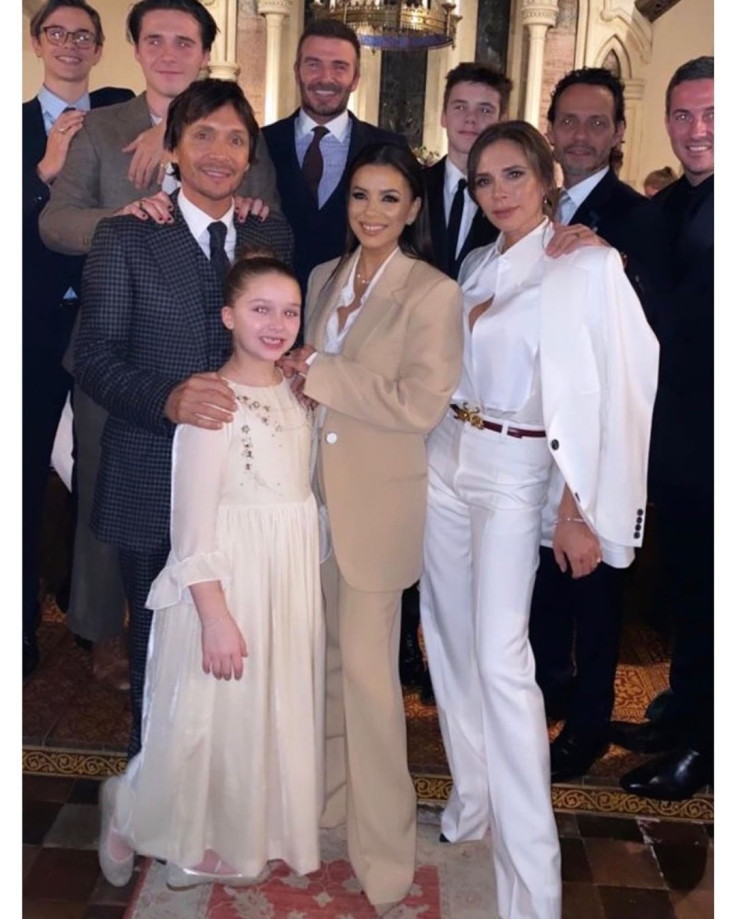 It's a Merry Christmas, indeed, for Eva Longoria and Marc Anthony! They can't seem to be more elated in their new roles—as godparents to Cruz and Harper, two of David and Victoria Beckham's kids. On Saturday, the Beckhams' threw an intimate celebration of sorts to baptize their young kids amid festivities at their Cotswolds residence.
Victoria being the social savvy mom that she is, took to Instagram to share a happy photo from the private ceremony. "Proudest of days today watching Harper and Cruz being baptized in front of our friends and family," captioned the fashion designer and singer alongside the photograph.
"So much to be grateful for x. With love, VB x I love u @davidbeckham x," she added. Victoria's incredibly proud of her choice—of guardians—for her kids, and mentioned the same in a post. "I couldn't be more proud of my children and thankful to my family, and the most wonderful Godparents," she mentioned in the post.
While it goes without saying that great sartorial sense runs in the family; fans were quite impressed by 8-year-old Cruz's choice of outfit. It turns out, mommy took a step back and roped in French couture house Bonpoint to design her baptismal gown.
And well, it wasn't just Victoria who was gushing over her kids. David seemed to be equally proud of his babies. The iconic Footballer took to social media to express his happiness. David believes that there couldn't be a better time for his kids to have been baptized in the most glorious way possible.
Taking a slight detour from the event in question, there was another occurrence that in a way stole the show at the Cotswolds— Brooklyn Beckham caught his parents amping up the temperatures on the dance floor. Um, while things didn't get steamy as such, guests clearly saw (and in a way, envied) the chemistry that came alive between David and Victoria.
They've stood the test of time, and have emerged as one of the strongest couples in Hollywood. The Beckhams' are known to throw great parties and they pulled out all the stops for this one. They booked the cast of the Jersey Boys tour for the after-party entertainment. And, well, needless to say, it was a rad night!
© 2023 Latin Times. All rights reserved. Do not reproduce without permission.