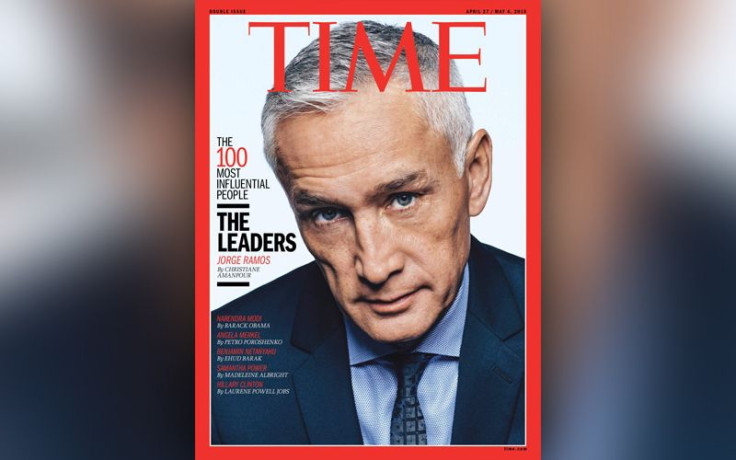 Time magazine has released their list of the 100 Most Influential People 2015! The list was divided into 5 categories: Titans, Pionees, Artists, Leaders and Icons. Each of these has a special cover and Univision's Jorge Ramos is front and center as one of the top leaders. The 57-year-old newscaster hosts the top-rated Spanish-language news program nightly on Univision, a weekend political show called "Al Punto" and Fusion's "America with Jorge Ramos." Mr. Ramos has been a leader among Latinos in the U.S., pushing forward for an immigration reform and shedding light on issues that concern the Latino population. In the past Jorge Ramos has blasted President Obama for not taking into account Latinos and the Hispanic media during important topical issues.
The Univision News anchor, was not too happy to have been left out of the media blitz the POTUS had during the Syria issue. The journalist took to Twitter to blast the Commander-In-Chief for the lack of interest he showed informing the Hispanic community over the issues in Syria. "Pres. Obama gives 6 interviews today. None of those to Univision. Why? Hispanics also care about Syria. Same mistake as presidential debates," Ramos tweeted. "150,000+ Latinos are serving in the U.S. military. But none of the 6 interviews given today by Obama include Univision #LessonsNOTlearned." The legendary Christiane Amanpour interviewed the leader for the magazine's special issue where he said that Hispanis are "truly tired" that Democrants and Republicans have the "Christopher Columbus syndrome." He explained: "They discover us during the presidential campaigns and then they forget about us."
Other personalities that landed on the Leaders category are: Raúl Castro, Narenda Modi, Angela Merkel, Bob Corker, Rula Ghani, Muhammadu Buhari, Alexis Tsipras, Vladimir Putin, Obiageli Ezekwesili, Elizabeth Warren, Haider Al-Abadi, Joko Widodo, King Salman bin Abdulaziz Al Saud, Xi Jinping, Jeb Bush, Tom Frieden, Samantha Power, Kim Jong Un, Abubakar Shekau, Benjamin Netanyahu, Hillary Clinton, Martin Dempsey, Beji Caid Essebsi, Adam Silver, Lu Wei, Marine Le Pen, Barack Obama, Mitch McConnell, Mohammad Javad Zarif and Joanne Liu.
The Titans: Kanye West, Lorne Michaels, Mellod Hobson, Tim Cook, Elizabeth Holmes, Charles Koch & David Koch, Susan Wojcicki, Chanda Kochbar, Tony Fernandes, Lee Daniels, Reid Hoffman, Kim Kardashian, Janet Yellen, Danny Meyer, Lei Jun, Bob Iger, Satya Nadella, Jorge Paulo Lemann.
The Pioneers: Misty Copeland, Scott Kelly, Emmanuelle Charpentier & Jennifer Doudna, Brian Chesky, Emma Watson, Jimmy Lai, Vikram Patel, Pardis Sabeti, Reese Witherspoon, Bryan Stevenson, Chai Jing, Magnus MacFarlane-Barrow, Kira Orange Jones, Aura Elena Farfán, Martin Blaser, Anita Sarkeesian, Rudolph Tanzi, Tom Catena, Mustafa Hassan, Laverne Cox, Sara Koenig.
The Artists: Bradley Cooper, Richard Linklater, Chris Ofili, Julianna Margulies, Amy Schumer, Alexander Wang, Jill Soloway, Chris Pratt, Audra McDonald, Tim McGraw, Kevin Hart, Chimamanda Ngozi Adichie, Julianne Moore, Christopher Nolan, Marie Kondo, John Oliver.
The Icons: Ruth Bader Ginsburg, Taylor Swift, Diane von Furstenberg, Haruki Murakami, Gabriel Medina, Björk, Jerry Brown, Abby Wambach, Ina Garten, Thomas Piketty, Malala Yousafzai, Pope Francis.
© 2023 Latin Times. All rights reserved. Do not reproduce without permission.