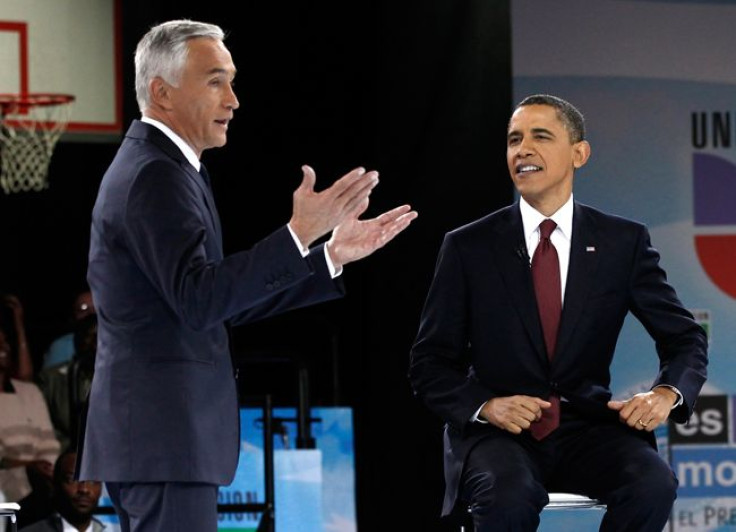 Jorge Ramos, Univision News anchor, was not too happy to have been left out of the media blitz President Barack Obama had today. The journalist took to Twitter to blast the Commander-In-Chief for the lack of interest he showed informing the Hispanic community over the issues in Syria. "Pres. Obama gives 6 interviews today. None of those to Univision. Why? Hispanics also care about Syria. Same mistake as presidential debates," Ramos tweeted. "150,000+ Latinos are serving in the U.S. military. But none of the 6 interviews given today by Obama include Univision #LessonsNOTlearned."
Obama sat down with television journalists from NBC, ABC, CBS, FOX News, CNN and PBS and snubbed Spanish-language outlets like Univision and NBC-owned Telemundo. The Miami-based network issued an official statement that says, "What happens in Syria is important to Univision News' audience. As the fastest growing demographic in the U.S. the decisions that are made by our government on issues like this one have a direct impact in their lives and their future. The U.S. Hispanic community has the right to be well informed and receive all the news and information they need from the news source they trust the most. It's disappointing to see the lack of interest to reach our audience on this important issue."
During the Presidential campaign, Ramos also fired back and expressed his frustration when Hispanic media was left out of hosting a debate between Obama and Mitt Romney to discuss issues concerning Latinos. After trying to have the Commission On Presidential Debates decline a fourth round, Univision teamed up with Facebook for a town hall meeting with the candidates on seperate dates. The snub comes after Univision topped the English-language networks during July sweeps this summer and showing that it can play in the big leagues.
Do you think Obama should have made himself available to a Spanish-language news outlet?
© 2023 Latin Times. All rights reserved. Do not reproduce without permission.