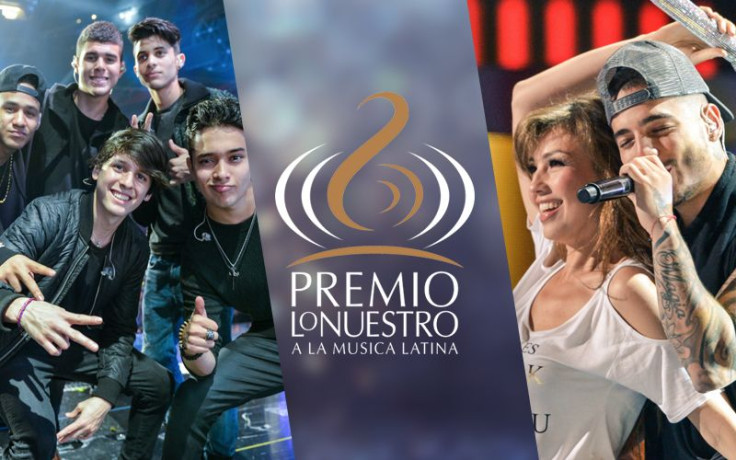 The longest-running music award show for Latinos is on tonight with Premio Lo Nuestro 2016. Univision has once again organized a line-up that will have viewers across the country singing and dancing, making memories and an unforgettable night. The top award of the night is the Premio Lo Nuestro Artist Of The Year and the following are nominated: Calibre 50, Enrique Iglesias, J Balvin and Romeo Santos. One of these boys will win, but who will it be? We will have to wait until the show airs tonight starting at 8pm ET/PT. Awards will be handed out throughout the night and that's only one of the reasons to watch tonight, here are 10 more reasons you can't miss Premio Lo Nuestro:
1. Thalia & Maluma: We are very excited for the performance these two are going to present tonight. We know the "Pretty Boy, Dirty Boy" gets down and Thalía can get quite cheeky on stage as well. Their number promises to be hot, hot, hot.
2. CNCO: The boys that were crowned winners of Season 1 of "La Banda" will perform in their first major award ceremony. The stakes are high with the top Latino musicians and these boys will have to prove why the people chose them as their winners.
3. Pitbull: Anytime Mr. 305 is at an award show, we know that's where the party is. We don't know how he will top his Grammys performance where Sofia Vergara surprisingly appeared, but we can only hope it'll be just as smashing.
4. Carlos Vives: The Colombian singer is set to receive the "Premio Lo Nuestro A La Excelencia" award and we are sure a touching tribute will lead up to him receiving the well-deserved accolade.
5. Prince Royce: Mr. Royce always brings the romance to the stage, but will he take off his shirt? That is the question.
6. Paquita La Del Barrio: Yes, she hates on men for breaking her heart and she's amazing. Paquita will be receiving a special honor for her career in music.
7. Sin Bandera Reunion: The duo have returned and have chosen Premio Lo Nuestro to make one of their first presentations of their reunion.
8. Celebrity Presenters: Set to hand out awards are names like Ha*Ash, Sofía Reyes, Daniel Arenas, actresses Jacky Bracamontes and Marlene Favela, actors and singers Sandra Echevarría and Diego Boneta, former Miss Colombia Ariadna Gutiérrez and many more.
9. Galilea Montijo & Arath De La Torre: Her wit and charm are always great to see at award shows. The "Hoy" co-host is always refreshing to see on tv and we can't wait to see all of her different outfit changes throughout the night. We have seen Arath on "Antes Muerta Que Lichita" and he is also one to watch for his awesome comedic timing.
10. We Will Be Watching: Duh! This should be your main reason to watch it tonight, because we here at LatinTimes are preparing special coverage of the event and will be uploading exclusive videos. Make sure to tune in to Univision starting at 7pm ET/PT for the red carpet special and at 8pm ET/PT for the main event.
© 2023 Latin Times. All rights reserved. Do not reproduce without permission.