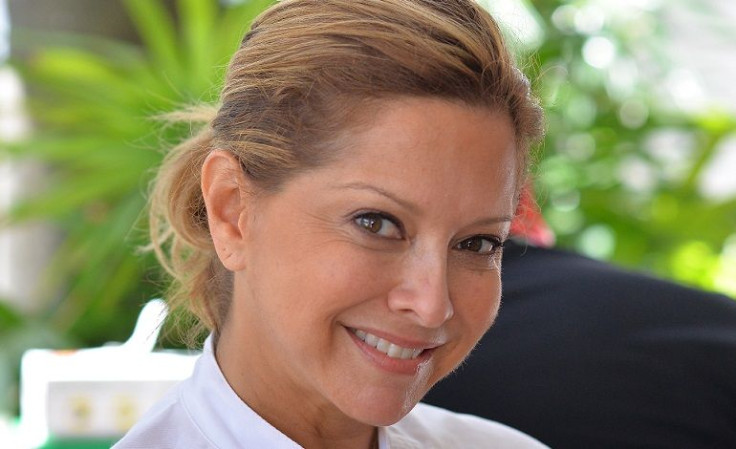 Television personality, restaurateur and celebrity chef Ingrid Hoffmann has hosted multiple cooking shows, including "Simply Delicioso" on the Food Network and "Delicioso" on Galavision. She is also the author of LATIN D'LITE and "Simply Delicioso: A Collection of Everyday Recipes with a Latin Twist." Hoffman's experience in the culinary arts has now positioned her to be the new host of Telemundo's "Top Chef Estrellas: Season 2". This is different than anything else Hoffmann has done in her career but a new opportunity she enjoyed very much and is excited about, she told Latin Times.
Ingrid's fascination with food, cooking and style began as a little girl. She started cooking with her mother, a Cordon Bleu chef, at such a young age that she needed a stool to reach the stove. She discovered not only a love of cooking, but a flair for entertaining, and in no time developed her own distinctive style. Raised in Colombia and Curaçao, Ingrid moved to Miami where she once owned a high fashion luxury boutique as well as the restaurant Rocca. Appearing regularly on local TV, Ingrid was noticed by Hearst Entertainment who signed her for her first cooking show, Delicioso with Ingrid Hoffmann, which initially launched in Latin America.
Latin Times interview Ingrid Hoffmann and she shared her experience during the production of Top Chef Estrellas, which will start airing Sunday, January 11, 2015 at 9pm/8c on Telemundo.
Latin Times: Is this your first time working with Telemundo Network? If so what does it mean to you as a professional debuting as the new host of Top Chef Estrellas?
Ingrid Hoffmann: This for me is a new opportunity it is something I have never done because I have always had my own show and cooking. It does present a new challenge and I joke about it because I always said I didn't know how to stand in front of a camera unless I had pots and pans to hide behind. Therefore, it is a new role but it was a lot of fun. As far as working with Telemundo it has been an incredible experience. I had worked for so many years on Univision but having this change and having this opportunity I was never able to get on the other side is exciting. I will be doing other projects with Telemundo as well in addition to Top Chef Estrellas which I am really excited about and it's all in good timing.
LT: You have abundance experience in the culinary field and have had your own shows. With your background what is something new you are bringing that's different to this season?
IH: I had big shoes to fill Aylin Mujica is a talented actress, personality and someone who has been a host on different TV opportunities. She is also very loved by the public so in that sense I have a big challenge that I have to win the audience who followed her on the show. The difference for me because of my culinary knowledge it has given me the opportunity to help the judges with my input in a way that she wasn't able to help because of my knowledge in the cooking field. I am able to filter and help them when they are sort of bridge blocked in a particular situation that makes them indecisive with the "this or that". I come back with my input by saying well "maybe this or that because.." and it may bring some clarity to their debate.
LT: During the production did you have any interaction with the contestants?
IH: Only during set. We are not allowed to interact with them at all outside of being on set.Top Chef brand have very strict rules and it's one of the most respected brand on television.They ensure all rules are followed.
LT: Anything you found challenging during the production process?
IH: I was scared because this was a new thing for me. I was the newcomer to be the host and the work hours were long. I always had to look glamourous versus being with a chef hat, pony tail,sneakers and a robe. The 16 hours on a platform standing in heels was for sure a challenge for me.
LT: What is your favorite Latin Holiday dish?
IH: My mother's stuffing of the Turkey. I am not much of a turkey lover. The stuffing is a three meat stuffing and it has chorizo, ham, meat, olives, rum, raisins, fruit. It's a very complex kind of afro carribean stuffing for a turkey. As long as their is stuffing I am happy and would have to say that's my favorite part. I like to play with cranberries I put coconuts in it and spice it up with some rum and introduce spanish flavor that way.
© 2023 Latin Times. All rights reserved. Do not reproduce without permission.