After months of being barred from platforms like Twitter and Facebook, former US President Donald Trump unveiled a new and exclusive communications forum on Tuesday that will serve the purpose of free and safe communication and will potentially enable him to engage directly with his supporters.
The former president is not one to stay off social media, regardless of the bans imposed on his multiple social accounts. He's back in the ring of social media with a slightly conventional communication platform that is called From The Desk Of Donald J. Trump.
The platform is a website that's all about Trump and is a place for him and his party to voice their opinion and call for action from their supporters. Before the Facebook review board gave a final word on his account suspension, the ex-president launched a website with a string of comments that resembled blogposts, The Guardian reported.
The glorified blog which is essentially a one-way communicating platform has several posts up already. The platform features archive footage announcing Trump's Twitter ban, as well as photographs of his Mar-a-Lago estate in Florida and a computer screen, with captions reading: "In a time of silence and lies, a beacon of freedom arises. A place to speak freely and safely. Straight from the desk of Donald J Trump."
Users would be able to like or share the articles, posts, videos on their own Facebook or Twitter pages via tabs on Trump's new page, but they can't respond to it directly. In a way, the platform would use its users to get Trump back on Twitter and Facebook through his followers' reshares. There are also options to shop and contribute to the platform.
According to Fox News, the site has a sign-up page wherein users can type their phone numbers and email addresses to get updates anytime Trump posts a new article.
Trump Supporters Will be 'Very Happy' if He Announces 2024 Presidential Bid
On Tuesday, the former POTUS hinted at a run for president in 2024 and assured that his decision would make his supporters "very, very happy".
Trump said he was thrilled and was looking forward to making an announcement at the right time, during a telephonic interview on Candace Owen's eponymous Daily Wire show, Fox News reported.
"I think people are going to be very, very happy when I make a certain announcement," Trump said. When asked about a possible run, Trump said in a pre-recorded interview that he is enthusiastic about the potential run.
He said he couldn't make any declarations about the run at this stage "because it becomes a whole different thing," citing financial reasons. He told Owen that his supporters would be elated by his potential announcement but it was still in its nascent phase. He had one message for everyone: Stay tuned.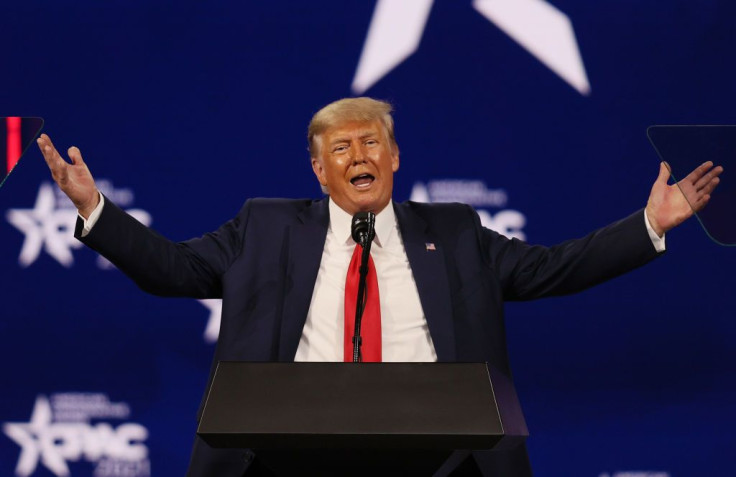 © 2023 Latin Times. All rights reserved. Do not reproduce without permission.