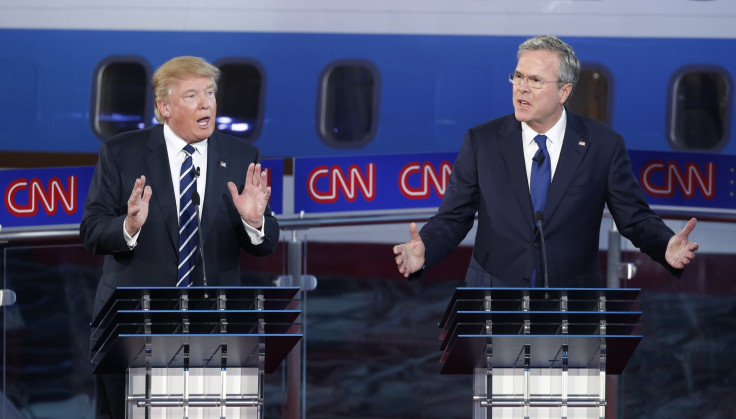 Simi Valley, CA -- Jeb Bush accused Donald Trump of trying to buy his influence when he was governor of Florida. It wasn't a slip of the tongue, but a direct attack in a rivalry that's seen an escalating war of words. The exchange began when CNN's Jake Tapper asked Bush if his 100 million dollars in campaign money make him "a puppet." Standing at a podium next to Trump, with Ronald Reagan's Air Force One plane behind him, Bush said that he wasn't a puppet.
"No, absolutely not. People are supporting me because of my conservative leadership," Bush said.
But Bush said he could think of someone who played in puppetry.
"He wanted casino gambling in Florida," Bush said, pointing to Trump.
Trump vehemently denied the accusation, saying "no."
So, did Trump try to buy Bush off for casino money?
Trump did hold a high-dollar fundraiser for Bush in 1997 during his gubernatorial campaign, according to CNN . He also reportedly donated $50,000 dollars to the Florida Republican party that year.
Trump also hired a casino lobbyist, according to Bloomberg . Allegedly, he hired Richard T. Fields to try and secure gambling rights for Trump interests in seminole reservations. But Trump reportedly cancelled the effort when Bush came into office.
Yet Trump might not care what people think about his business dealings. He's openly said that as a businessman he donated money with the expectations that politicians would "do things" for him.
Early in the debate, Trump said that he had changed sides in a political game, leaving the business world to become a nascent politician.
"[I have been] a politician for about three months. But obviously I've been pretty successful," Trump said, referring to his place in the polls.
Donald Trump is the first choice for Republicans in the New Hampshire primary at 22 percent, according to a Sept. 12-14 WBUR poll. Jeb Bush came in fourth place with 9 percent, trailing two other Washington outsiders, Ben Carson and Carly Fiorina.
Here's the video of Trump and Bush's testy exchange.
© 2023 Latin Times. All rights reserved. Do not reproduce without permission.