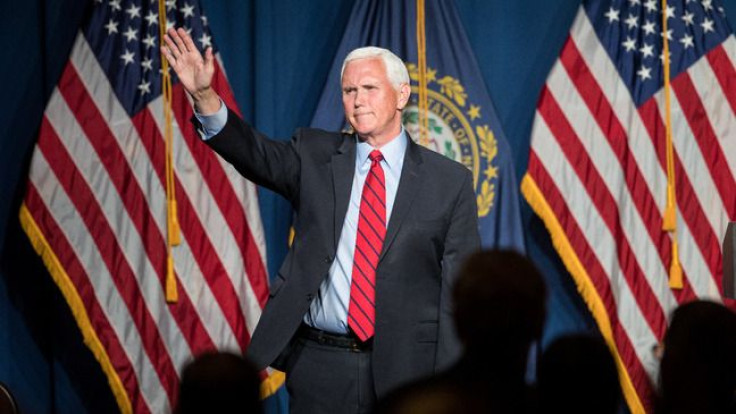 Mike Pence, who served as Donald Trump's vice president and narrowly escaped harm during the Jan. 6 riots, has announced his intention to run for the Republican presidential nomination in the upcoming year.
Pence has submitted the required paperwork to the Federal Election Commission, and he plans to officially launch his campaign with a video release and an event in Des Moines, Iowa, coinciding with his 64th birthday on Wednesday.
As a former congressman and governor of Indiana, Pence, known for his evangelical conservative stance, enters a primary race dominated by Trump.
Despite the strong lead Trump holds in the polls, surpassing his closest rival, Florida Governor Ron DeSantis, Pence is ready to compete for the nomination.
A potential presidential run by Pence has been anticipated for some time, but he has not garnered significant support in polling, usually finding himself in third place alongside former South Carolina governor Nikki Haley.
Several other candidates have already thrown their hats into the ring, including South Carolina senator Tim Scott, former Arkansas governor Asa Hutchinson, and biotech entrepreneur Vivek Ramaswamy, The Guardian reported.
When Trump chose Pence to be his running mate in 2016, he was governor of Indiana. This choice was largely interpreted as an effort to soothe socially and religiously conservative and evangelical supporters who had been concerned by the boisterous New York business mogul.
The bond between Trump and Pence was tested when Trump's controversies and offensive remarks emerged.
During the Access Hollywood scandal, where Trump was recorded bragging about assaulting women, there were reports that Pence considered leaving the ticket or potentially replacing Trump as the nominee.
Despite these challenges, Pence remained steadfastly loyal, some even describing his loyalty as excessive, throughout Trump's four-year presidency.
There were frequent reports of plots to replace Pence in the 2020 election, but it was Trump's refusal to accept his defeat to Joe Biden that ultimately shattered whatever connection remained between the two men.
On Jan. 6, 2021, while fulfilling his ceremonial role in Congress, Pence resisted pressure to refuse the certification of the electoral college results.
Witnesses have reported that Trump made comments suggesting that the mob was justified in chanting for Pence to be hanged.
Even after two and a half years, Trump continues to hold Pence responsible for the events of Jan. 6, which have been associated with nine fatalities, over a thousand arrests, and numerous convictions, including some for seditious conspiracy.
Pence has said, "President Trump was wrong. I had no right to overturn the election, and his reckless words endangered my family and everyone at the Capitol that day, and I know that history will hold Donald Trump accountable."
Similar to Trump, Pence faced an investigation regarding classified documents discovered in his possession after his departure from office. However, unlike Trump, the investigation into Pence was of considerably smaller scope and concluded without any charges being filed.
Pence has embarked on a challenging journey away from the individual he once served. Yet, some observers raised doubts about the extent of his independence.
In July of last year, Miles Taylor, a former homeland security official who became a critic of Trump said, "If you want to know what the Mike Pence vice-presidency was like, Mike Pence is a guy with an erect posture and flaccid conscience. He stood up tall but he did not stand up to Donald Trump."
© 2023 Latin Times. All rights reserved. Do not reproduce without permission.