Former President Donald Trump's political action committee (PAC) has more than $122 million in cash on hand after it raised $51 million during the second half of 2021.
The announcement was made by Trump's Save America PAC Monday.
The announcement read that Trump's "continued and unprecedented pace of fundraising shows that the future of the Republican Party in 2022 and beyond remains, perhaps, the strongest in" American history. The announcement also read that the Make America Great Again (MAGA) movement is "here to stay!"
According to Fox News, Save America PAC pointed out that the money that it has amassed doesn't include the hundreds of millions that other campaigns have raised running on Trump's platform and using his endorsement.
Trump's communications director Taylor Budowich said in a statement that the former President has built a political organization that "continues to capture and define the future of the Republican Party." Budowich added that Trump is "incredibly well-positioned to look beyond November as the need for his leadership has never been more important."
Save America PAC also claimed that Trump has contributed more than $1.35 million to his favored candidates and causes, reported CNN. According to Save America's most recent fundraising report filed Monday, the former President's leadership committee gave a combined $205,000 to dozens of candidates endorsed by Trump between July and December 2021. The recipients of Trump's contributions included incumbents like Republican Senators Marco Rubio of Florida, John Kennedy of Louisiana and Rand Paul of Kentucky. Other recipients were insurgent Grand Old Party (GOP) challengers like Harriet Hageman, who is running against representative Liz Cheney in Wyoming.
According to campaign finance records filed Monday night, weeks after the committee investigating the Jan. 6 riot was formed, Trump's PAC gave $1 million to the non-profit organization that employs his former chief of staff Mark Meadows. On July 26, 2021, Save America PAC gave $1 million to the Conservative Partnership Institute, which is the group where Meadows is a senior partner, reported CNN.
According to the filing, Trump's super PAC, Make America Great Again, Again!, spent $476,577 between October and the end of last year.
But the $51 million Trump raised from July 1 to Dec. 31, 2021 is down from the $82 million the former president hauled in during the first half of the year.
Meanwhile, Trump has been teasing another presidential bid in 2024, but is yet to formally announce it.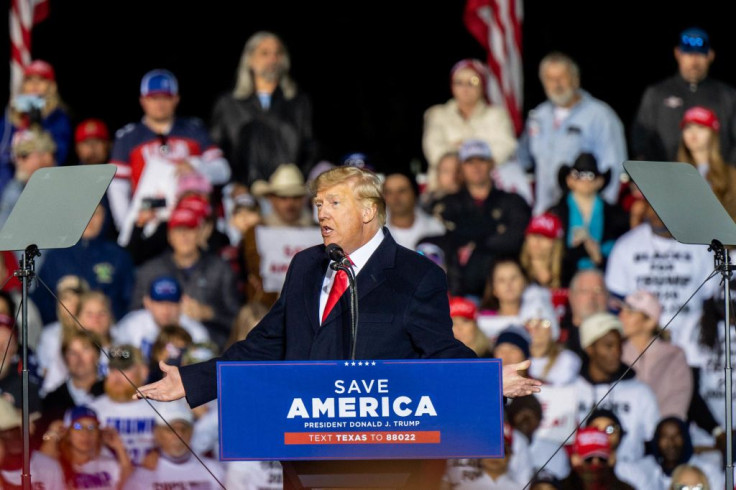 © 2023 Latin Times. All rights reserved. Do not reproduce without permission.