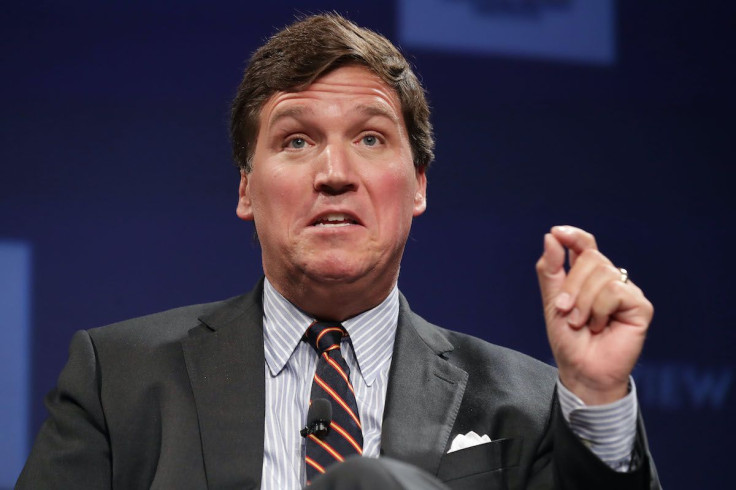 TV host Tucker Carlson's affinity for spreading Russian propaganda has been highlighted by a conservative group in a viral video.
Since Russian President Vladimir Putin invaded Ukraine in February 2022, the Fox News host has been leaning into Kremlin talking points and conspiracy theories, reported Huffpost.
Just days before the war started, Carlson defended Putin. He even said that Ukraine was "not a democracy."
On several occasions excerpts from his broadcasts have also ended up on Russian state-sponsored TV.
The Republican Accountability Project tweeted a new video that put the host on blast. It showed 96 seconds of Carlson "parroting Putin."
The host has repeatedly sided with Russia over the U.S. government. He even slammed the U.S. for providing ongoing support to Ukraine.
His opinions have taken root with the Republican base and some members of Congress. In fact, during a recent visit with Republicans in Washington, former British Prime Minister Boris Johnson said that he was "amazed and horrified by how many people are frightened of a guy called Tucker Carlson." Johnson was in the U.S. to lobby for aid to Ukraine.
Last year in February, Putin got around 190,000 troops assembled on Ukraine's border.
At the time, Carlson said that it was a mere "border dispute." He also launched an apparent attempt to humanize Putin, as per The Guardian.
In Putin's support, the host asked if the Russian leader ever called him a racist or "threatened to get me fired for disagreeing with him?" He asked if Putin manufactured a worldwide pandemic that "wrecked my business and kept me indoors for two years?"
Soon after Carlson's colorful defense of Putin on television, it was played on Russia 1 as well as the Kremlin-backed RT television network.
But after Putin's troops had started bombing Ukraine, Carlson changed his tune, and said that he didn't think "anybody approves of what Putin did."
Carlson added that "Putin started this war."
The Republican Accountability Project targets members of the Grand Old Party. They target those who undermined democracy by supporting former President Donald Trump, his lies about the presidential election in 2020 and the Jan. 6, 2021 riot.
© 2023 Latin Times. All rights reserved. Do not reproduce without permission.