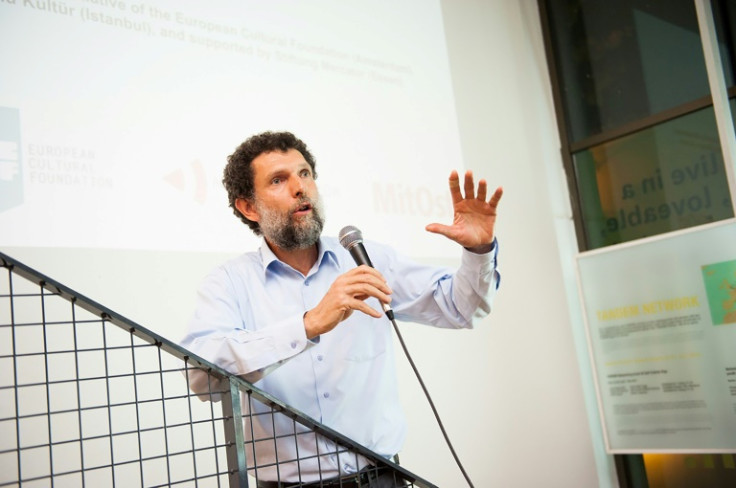 The Council of Europe on Monday awarded its top rights prize to jailed Turkish philanthropist Osman Kavala, who has come under repeated attack from President Recep Tayyip Erdogan.
Kavala, 66, faced alternating charges that have ranged from espionage and financing the 2013 protests to taking part in a failed 2016 coup against Erdogan.
He was arrested in October 2017 and sentenced to life in 2022 for allegedly trying to topple Erdogan's government.
"I'm very sad he cannot be with us to receive this prize, this meaningful prize," his wife, Ayse Bugra Kavala, said, accepting the award from Tiny Kox, president of the Parliamentary Assembly of the Council of Europe.
In a letter written from prison, read out by his wife, Kavala said he was honoured by the decision, and dedicated the prize to his "fellow citizens unlawfully kept in prison".
The Council of Europe said Kavala had supported several civil society organisations since the 1990s and that the moves against him were aimed at gagging critics and stifling dissent.
Turkey's refusal to abide by European Court of Human Rights rulings to immediately release Kavala have torn at Ankara's relations with Western allies.
The Council of Europe has launched infringement proceedings against Turkey over its treatment of Kavala.
That could potentially see Ankara expelled from the continent's leading human rights organisation.
Critics say it also highlights the deterioration of Turkey's rights record in the second decade of Erdogan's rule.
Turkey's supreme court last month upheld Kavala's conviction and life imprisonment on the charge of attempting to overthrow Erdogan's government during large-scale protests in 2013.
Kavala is unable to appeal.
He was detained six years ago and acquitted in February 2020 of involvement in the 2013 protests or the 2016 coup.
But he was immediately rearrested and charged with espionage. The court then brought new charges that included ones he had already been cleared of in the first trial.
Kavala said last month that the decision by the top appeals court to uphold his life sentence disregarded law and human life.
European officials and human rights activists condemned the confirmation of Kavala's sentence.
The decision "further increases the concerns of the European Union regarding the Turkish judiciary's adherence to international and European standards," Peter Stano, spokesman for the EU's top diplomat Josep Borrell, said at the time.
Last month the European Union's enlargement commissioner told candidate nation Turkey to address issues around democracy and the rule of law if it wants to boost its drive to join the bloc.
Enis Berberoglu, an opposition lawmaker who has served time in prison, visited Kavala after the ruling was issued.
"(Kavala) told me he saw the court decision on television... while writing a letter," Berberoglu told AFP.
"When he was writing 'if I had to stay here longer' ... he saw the flash on TV and wrote in the letter 'I think I will stay long'", the lawmaker said.
Berberoglu said Kavala's reaction to the ruling was: "This decision is a result of an understanding that does not value law or human life".
But the lawmaker noted: "I saw him in good morale."
Turkey's opposition chief Kemal Kilicdaroglu paid his first visit to Kavala on Friday, saying he wanted "to make injustice more visible".
"No one should be judged for their thoughts," Turkish media quoted Kilicdaroglu as saying outside Kavala's jail.
Kavala was one of tens of thousands of Turks who were either jailed or fired from their jobs in purges that followed a bloody coup attempt against Erdogan in 2016.
Ankara has flouted a succession of rulings by the European Court of Human Rights in recent years, notably concerning two anti-Erdogan figures: Kavala and Kurdish politician Selahattin Demirtas.
© 2023 Latin Times. All rights reserved. Do not reproduce without permission.