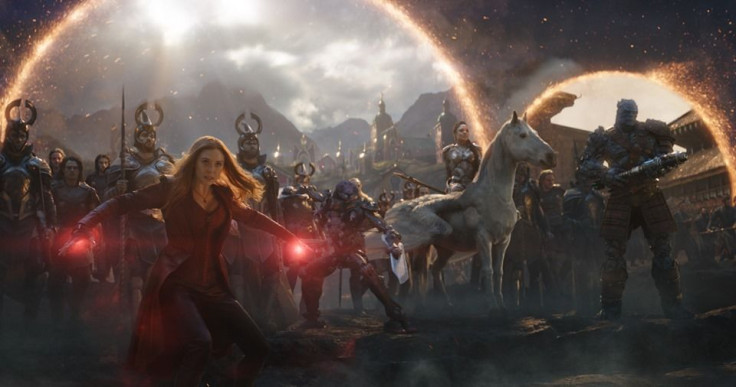 If you think Captain Marvel is the most powerful character in the Marvel Cinematic Universe (MCU), think again. According to Marvel Studios president Kevin Feige, one character is far more powerful than the extraterrestrial Kree warrior, and she's none other than Scarlet Witch.
While promoting "Avengers: Endgame" back in February, Feige said Captain Marvel would be the most powerful character in the MCU. "She's one of the most popular characters in our comics, she's one of the most powerful characters in the comics, and will be the most powerful character in the Marvel Cinematic Universe," he said.
Recently at the New York Film Academy, however, Feige swapped horses and revealed why Scarlet Witch a.k.a. Wanda Maximoff is far better than Captain Marvel. "Well, I think it is interesting if you look at 'Endgame,' Wanda Maximoff was going to kill Thanos," he said. "If he hadn't desperately—that's as scared as I've ever seen Thanos—and if he hadn't said 'decimate my entire team to get her off of me,' I think she would have done it," he said.
It can be recalled that in "Avengers: Endgame," Wanda Maximoff threw a fit when Vision died. When Thanos called his fleet to distract her, Elizabeth Olsen's character was already on the verge of single-handedly taking down the Great Titan, possibly changing the game during the final battle. According to Feige, no superhero could have done that other than her.
In the comics, Scarlet Witch is the only mutant who has the power to alter reality. She has fought both against and with the Avengers and has seen the destruction of the world in its head. In the MCU, however, the character was a bit different as she was created through the use of the Infinity Stones. Unlike Captain Marvel, she is near the upper echelons of power and has what it takes to take down Thanos.
Wanda Maximoff is set to make her first formal appearance as her superhero moniker, Scarlet Witch, in the upcoming Disney+ series "WandaVision." This series will lead into "Doctor Strange in the Multiverse of Madness," which Elizabeth Olsen will also co-star in.
© 2023 Latin Times. All rights reserved. Do not reproduce without permission.