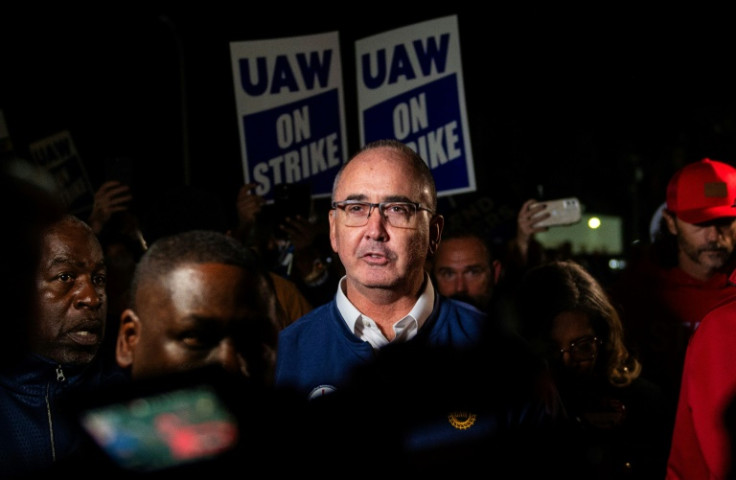 As workers at Big Three US automakers' plants enter their fourth day on strike, union leaders warn of an eventual amplification of their actions and protests while the impact on the economy is being assessed in North America.
UAW Auto Workers chief Shawn Fain said union leaders rejected a 21% pay raise offered by Stellantis, owner of American brands Jeep, Chrysler, Dodge and Ram.
"It's definitely a no-go, Fain told CBS News in an interview. "If we don't get better offers (...), we're going to amp this up even more."
The union leader said General Motors, Ford Motor and Stellantis have no excuse for not resolving salary disputes and meeting the auto workers' demands after netting record profits in recent years.
"We're prepared to do whatever we have to do. The membership is ready, the membership is fed up," Fain said.
The UAW auto workers leader echoed President Joe Biden's message backing the strike saying companies' record profits should be "shared fairly."
UAW auto workers rejected the offer of 21% increase by Stellantis. Workers from three plants went on strike on Friday 15. The UAW first proposed that the industry increase the hourly workforce's salary by 40% over a four-year contract, reaching 46% with other compensations. At the negotiating table, the UAW dropped the demand to 36%.
In total 12,700 workers went on strike at one plant at each company: a GM factory in Wentzville, Missouri; a Stellantis facility in Toledo, Ohio; and a Ford plant in Wayne, Michigan. These workers represent less than 10% of total unionized auto workers in the country (estimated to be 150,000 nationwide).
Fain and other union leaders said workers are ready to "amplify" the strike in time and with more workers if needed.
LATINO POWERS
While there's no data on how many striking UAW auto workers are Latinos or Hispanic in origin, some projections by the US Bureau of Labor Statistics suggest that only 8.8% of Latinos in the US workforce —of 25 million— are unionized.
In turn, HR services firm Zippia estimates that Hispanic or Latino workers make up 17.7% of total automotive production workers. The most common ethnicity in the industry, Zippia says, is White (59.7%) Latinos come next and African Americans are third, with 12.8%.
ECONOMIC IMPACT
The impact on the US economy from the strike could be devastating given the relevance of the automotive supply chain.
Some studies, by research firm IHS, for instance, estimate that a broad strike by workers of the Big Three companies could lead to a drop of at least 150,000 vehicles per week if the supply chain stops massively.
If the strike ramps up and results in a complete halt of production by all auto industry workers, the economic loss could reach more than $5 billion after 10 days, said Anderson Economic Group in a report released last month.
"UAW leadership has repeatedly stated that it's prepared to strike against all three automakers. If that were to happen, a 10-day strike would result in total wage losses of $859 million and manufacturer losses of $989 million. If only one automaker suffered a strike-related shutdown (Ford, for example), it could cause $665 million in losses during that period. In this scenario, AEG estimates a $341 million loss in direct wages and $325 million in company-wide losses," said AEG.
An economic impact from the strike in the US automakers could also be felt in Mexico where all Big Three companies have plants in several states south of the border. Mexico is also a hotbed for auto part manufacturers from the US, Europe and Asia, all of which play a vital role in North America's automotive supply chain.
If the strike at Ford, GM and Stellantis plants extend for over a week, Mexico's industry could see losses amounting to $76 million per week, said the industry lobby Industria Nacional de Autopartes (INA).
INA said in a press release that this reduction represents 0.1% of Mexico's total auto parts exports.
Other experts, however, believe the strike in the US could benefit Mexico as the country could ramp up production since workers in plants belonging to the Big 3 automakers are not affiliated with the UAW.
In fact, GM Mexico said last week that its plants in the country will continue normal operations despite the strike by US UAW workers.
© 2023 Latin Times. All rights reserved. Do not reproduce without permission.