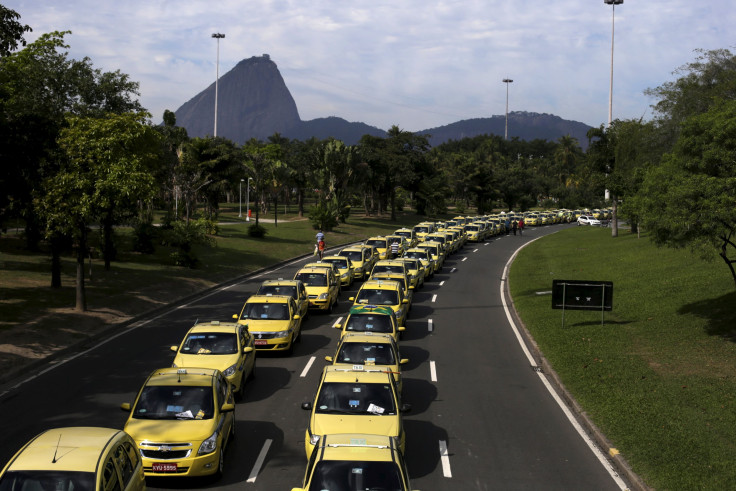 Brazil's largest and richest cities have voted to ban app-based taxi services like Uber that critics say unfairly dodges local regulations. On Sept. 10, city councilors voted 43-3 in favor of a ban in São Paulo, Brazil's financial capital. On Aug. 25, city councilors in Rio De Janeiro voted 41-1 in favor of a similar measure, though punishments differ in both proposals. Uber has faced resistance in Mexico, India, Brazil and the U.S., where regulators have struggled to legislate rules for the app-based taxis without banning them outright.
Uber's fate in Brazil now rests in the hands of São Paulo and Rio de Janeiro's mayors who are weighing the possibility of vetoing the bans issued by their respective city councils. In Rio, Uber has targeted Mayor Eduardo Paes with an aggressive public media campaign.
Mobilizing their tech-savvy supporters, Uber is promoting the hashtag #VetaPaes, or Paes veto and another one for São Paulo Mayor Fernando Haddad, #VetaHaddad and #FicaUber -- Uber stays.
Uber users like the convenience of the app, which allows them to call a taxi. It's also cheaper, partially due to the fact that drivers can sidestep taxi regulations and licensing fees. But it's also more convenient and, according to some users, Uber drivers provide better service.
Traditional cabbies in Brazil complain that the new Uber drivers have an unfair advantage. In the U.S., where Uber has operated in multiple cities since 2011, it is the apps' own drivers that have complained.
Where the company has dodged local business regulations, it has also side-stepped employer regulations because it treats its drivers as contractors, even if they are full-time employees. That may change as disgruntled employees challenge Uber's interpretation of its roll.
"[Uber] hold [itself] out as nothing more than a neutral technological platform, designed simply to enable drivers and passengers to transact the business of transportation," the California Labor Commission found in June. "The reality, however, is that Defendants are involved in every aspect of the operation."
The case revolved around a diver who claimed $4,000 in unpaid expenses that an employer would normally provide. In the U.S., employers are expected to contribute to healthcare plans and pay additional taxes. In Brazil, a generous social safety guarantees healthcare, so that is less of an issue.
For now, traditional cabbies lead the Uber backlash in Brazil, not the app's newly-minted drivers.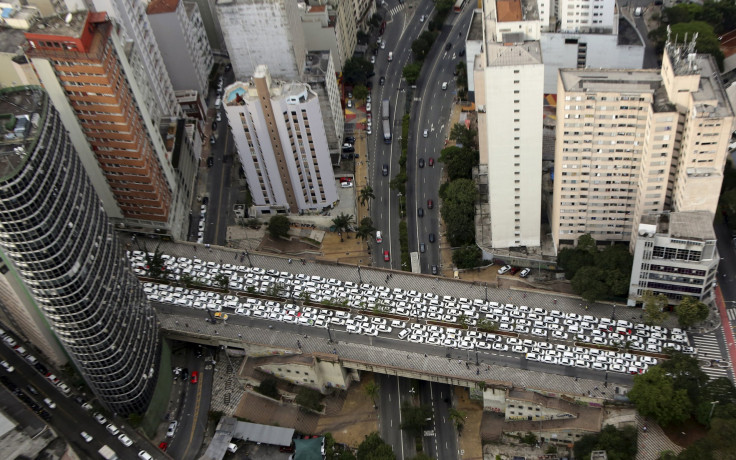 While Uber supporters push out posts, real-life cabbies are hitting the pavement. Taxistas launched massive protests leading up to both the Rio and São Paulo votes. The company responded with a counter-offer in Rio, which may be extended to São Paulo, where mayor Haddad has given little indication of where he stands on a veto.
The last-ditch effort in Rio included proposed a 1.5 percent tax on Uber itself. The service pays a similar tax in Mexico City, where it has also faced the threat of a ban. If approved by Rio's assembly, the revenue would go to improving public transportation, according to Estadão.
Taxi and ride-sharing apps such as Uber have been banned in at least 13 state capitals in Brazil, CSM reports, including Brasilia, the nation's capital.
© 2023 Latin Times. All rights reserved. Do not reproduce without permission.