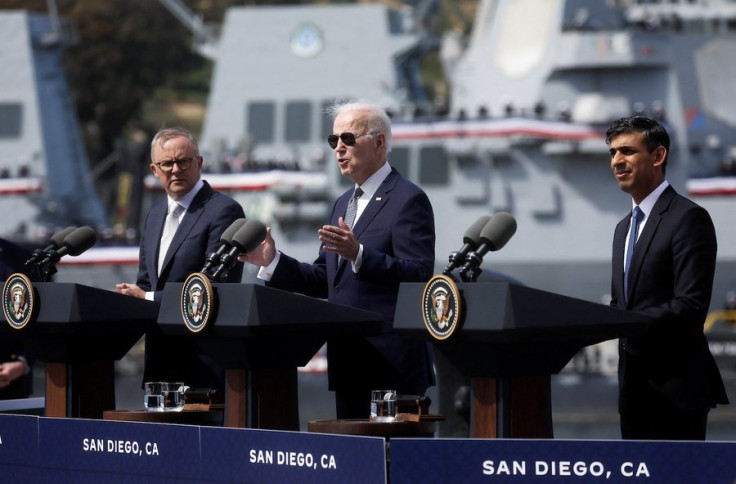 The leaders of the U.S., UK and Australia have revealed new information about their strategy for building a fleet of nuclear-powered submarines of the newest generation.
According to the Aukus agreement, the U.S. must first give Australia at least three nuclear-powered submarines.
The allies will also collaborate to build a new fleet using state-of-the-art technology, such as reactors manufactured by the UK's Rolls-Royce.
The agreement aims to reduce China's influence in the Indo-Pacific area.
U.S. President Joe Biden emphasized that the boats would not have nuclear weapons and would not put Australia's commitment to being a nuclear-free nation in jeopardy when he spoke with the other leaders in San Diego, California.
Members of the Royal Australian Navy (RAN) will be embedded at US and UK submarine bases starting this year in order to learn the required skills to operate the submarines, according to the agreement announced on Monday.
From 2027, the U.S. and UK will base a small number of nuclear subs at a RAN base in Perth, Western Australia, before Australia buys three American Virginia-class submarines in the early 2030s - with options to purchase two more, reports BBC.
After that, it is intended to develop and construct the SSN-AUKUS, a brand-new nuclear-powered submarine for the navies of the UK and Australia.
This attack vessel will be constructed in Australia and Britain to a British design while incorporating technology from all three nations.
With cruise missiles that can hit targets on land and at sea, Australia will soon have interim and future boats that will offer it submarines that can travel farther and faster than its current fleet.
According to President Biden, all three nations are dedicated to ensuring that the area is free and open.
Anthony Albanese, the prime minister of Australia, and Rishi Sunak, the prime minister of the United Kingdom, stood on either side of him.
"Forging this new partnership, we're showing again how democracies can deliver our own security and prosperity... not just for us but for the entire world," he said.
The US has also pledged a total of $4.6bn (£3.7bn) over the next few years to build its submarine construction capacity and to improve maintenance of its Virginia-class submarines, as part of Monday's announcement.
Australia's Anthony Albanese said the submarine plan would create thousands of new jobs and marked the "biggest single investment in Australia's defense capability in all of its history".
"This will be an Australian sovereign capability, commanded by the royal Australian navy and - sustained by Australian workers in Australian shipyards with construction to begin this decade," said Albanese.
He added that this deal is only the second time in history that the U.S. has shared its nuclear propulsion technology, and it is the first time in 65 years.
In the 18 months since the pact's announcement, according to UK Prime Minister Sunak, the challenges to international security have only gotten worse.
"Russia's illegal invasion of Ukraine, China's growing assertiveness, the destabilizing behavior of Iran and North Korea - all threaten to create a world codefined by danger, disorder and division."
As part of his visit to the U.S., Sunak has also pledged to increase defense spending by nearly £5bn ($6bn) over the next two years to counter threats from hostile states, BBC reported.
China has frequently criticized the agreement.
Last week, Mao Ning, a spokesperson for Beijing's foreign ministry, reiterated Beijing's stance that the agreement "undermines peace and stability in the Asia-Pacific area" and runs the risk of sparking an arms race.
"We urge the United States, Britain and Australia to abandon the Cold War mentality and zero-sum game, faithfully fulfill their international obligations and do more to contribute to regional peace and stability," he said.
The agreement has not been without political repercussions, despite the fact that all three leaders have been keen to emphasize how it will improve their cooperation and add to global stability.
Australia abandoned a lucrative submarine deal with France in 2021 in favor of the trilateral arrangement, which strained relations with Paris politically.
According to Phil Mercer of the BBC in Sydney, the agreement brings Australia's military closer than ever to the U.S. and Britain.
The deal's strategic significance and the reality that it will create thousands of jobs are both being praised by the Australian government.
However, the correspondent continues, the nation must engage in some very delicate diplomacy moving forward.
The key issue is whether Australia can deepen its military ties with the U.S. while also fostering closer economic ties with Beijing, as China is its main trading partner.
According to the government, Aukus could cost Australia A$368 billion (£201 billion) over the following three decades.
No decision has been made on a future east coast submarine base, although Port Kembla near Wollongong, 100km (62 miles) south of Sydney, is thought to be a likely location.
"It's causing alarm that it could make us a potential military target," Greens party councilor Cath Blakey told the Australian Broadcasting Corporation.
"I think it's a potential sovereign risk to Australia to be hitching ourselves to the U.S. and the UK."
A local official there claimed that the potential presence of a nuclear submarine station nearby worried the locals.
© 2023 Latin Times. All rights reserved. Do not reproduce without permission.