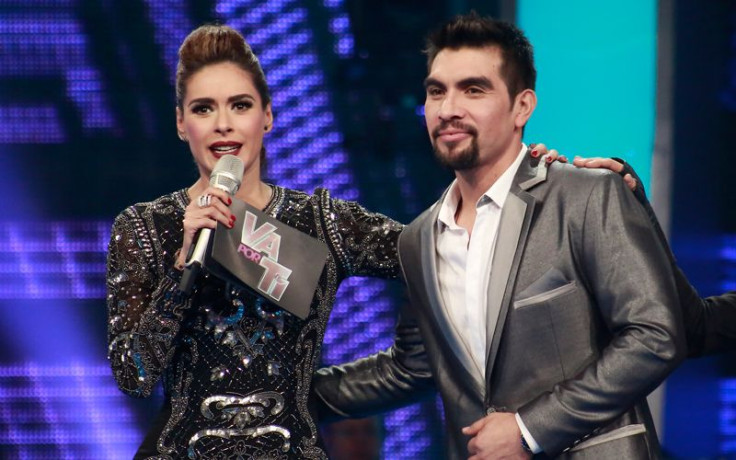 "Va Por Ti" is winding down to its final contestants and a winner will be crowned in only a few weeks. The Univision reality show hosted by Galilea Montijo still has Dulce María and Jencarlos Canela in the running of having one of their team members win the record deal with El Dasa already out of the competition. This week Mijares and J.Balvin will be guests on the talent show where they will help the singers with their talent and experience in show business. This season of "Va Por Ti" has featured many big celebrity names in the music industry like Ricky Martin, Yuri, Laura Pausini, Mario Domm, Pepe Aguilar, Banda El Recodo and Ricardo Montaner. WATCH a preview down below!
Romance has been plaguing the "Va Por Ti' contestants with Paloma Carrasco and Fernando Corona get cozy with each other during rehearsals of the show. The singing hopefuls spend so much time together practicing and getting everything right, that it's easy for them to find support in each other. Canela is coaching six singers that are still in the competition: Espiridión, Paloma, Fernando, José, Raúl and Virginia. The former RBD-singer has seven on the line: Ana, Danny, Geissie, José Enrique, Stephanie, Victor and Yazaira. One of these names will be the ultimate winner of the show.
The winner of the show will score a sweet deal with Warner Music to produce their first album. What happens with most of these shows is that they win and nobody ever hears about them again. With this contract they will be assured to record their debut album and have their fans listen to them. Not only that but they will join a family that includes huge names like Laura Pausini, Luis Miguel, David Guetta, Bruno Mars and Coldplay.
© 2023 Latin Times. All rights reserved. Do not reproduce without permission.