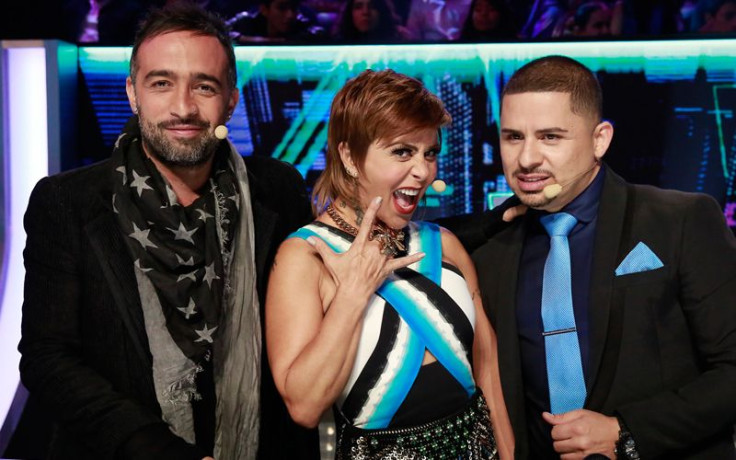 "Va Por Ti" is Univision's Sunday reality show hosted by Galilea Montijo. The music talent show features some of biggest names in music like Alejandra Guzmán, Larry Hernández, El Dasa, Jencarlos Canela and Dulce María. Not only that but there's a rotating panel of judges that have included international superstars like Pepe Aguilar, Mario Domm and Ricky Martin. Each weekend the contestants face their coaches, judges and their own fears in hopes of winning the competition and becoming the next Latin music star. With only weeks before the finale, the stakes have increased and it gets more challenging. Viewers at home have picked their favorites and have become invested in these people's dreams. All of the elements that compose the show are very similar to those that compose a telenovela and these are the seven ways "Va Por Ti" is the best one on Sunday nights!
1. Passion: Every telenovela has passion, wether it's "La Gata's" drive to raise her kids in the face of adversity or the passion that Esteban and Acacia are feeling towards each other on "La Malquerida." This is what makes our protagonists move along and that is the same passion the contestants of "Va Por Ti" share. They all want to be recording artists and show their passion week after week during each of the Sunday concerts. What separates each of the contestants is who really wants the ultimate prize the most as they continue to be tested to the extreme.
2. Heartthrobs: All of Univision's current telenovelas have heartthrobs, "La Gata" has Daniel Arenas, "Mi Corazón Es Tuyo" has Jorge Salinas, "Hasta El Fin Del Mundo" has...well, they had Pedro Fernández and now David Zepeda and "La Malquerida" has Christian Meier. "Va Por Ti" has real telenovela hottie Jencarlos Canela and to a certain extent Larry Hernández. The show also has some hotties in the competition like Espiridion, José Enrique, Danny and Victor. They are already favorites among the women and girls that watch the program.
3. Beauties: Equally the primetime soaps on the network have the beauty counterparts like Maite Perroni, Silvia Navarro, Marjorie De Sousa and Ariadne Díaz. On the reality show we get beautiful women like Galilea and Dulce María and contestants like Paloma, Ana, Geissee, Virginia and Yazaira.
4. Villains: Every good telenovela has a big bad evil that get's between the happiness of our protagonists. On "La Gata" it's Lorenza (Laura Zapata) and the psychopath of Gisela (Mónika Sánchez), on "Mi Corazón Es Tuyo" it's the evil witch of Isabela (Mayrín Villanueva) and on "Hasta El Fin Del Mundo" it's the seductress of Silvana (Mariana Seoane). "Va Por Ti" doesn't have antagonists that are that evil, but they do have some fearsome judges that are ready to tear our contestants apart if they do not perform well. Alejandra Guzmán and Larry are the duo that interfere with the hopes and dreams of our favorite singers.
5. Dreams: All of the telenovelas have our main characters dreaming of something or someone. "La Gata" wants to find love, Ana from "Mi Corazón Es Tuyo" wants to find her mother and make ends meet to support herself, in "Hasta El Fin Del Mundo," Sofía Ripoll wants to continue her family legacy and have a successful chocolate factory while our Acacia from "La Malquerida" just wants to love her mom's husband freely. All of our singers from "Va Por Ti" want to live out their dreams of singing and sharing their art with the world. They all want to get far in the competition to fulfill that dream of holding a place in the entertainment world and headlining tours, producing music and touching people's hearts and souls with their music.
6. Herencia: Most of telenovelas have a wealthy person dying and leaving all of their fortune to the sweet and poor protagonist. What does "Va Por Ti" have? The winner of the show will score a sweet deal with Warner Music to produce their first album. What happens with most of these shows is that they win and nobody ever hears about them again. With this contract they will be assured to record their debut album and have their fans listen to them. Not only that but they will join a family that includes huge names like Laura Pausini, Luis Miguel, David Guetta, Bruno Mars and Coldplay.
7. Love: Love is what moves mountains and our telenovelas feature couples that we are dying to see them share a kiss and end up happily together. Will Esmeralda and Pablo be able to end up happy with all these psycho's running around on "La Gata?" Will Ana and Fernando fess up and tell each other that they actually love each other on "Mi Corazón Es Tuyo?" Will Sofía and Chava be able to live happily without all this noise around them telling them they are not good for each other on "Hasta El Fin Del Mundo?" Besides their love for music on "Va Por Ti" the show has featured some sparks. Just this week Fernando confessed he has feelings for Alejandra Guzmán and even shared a kiss surprised everyone on set! Also Paloma shared a big kiss with Jencarlos that left a lot of jealous women out there. Could love be looming on "Va Por Ti" and end up with a wedding like all of our favorite telenovelas?
© 2023 Latin Times. All rights reserved. Do not reproduce without permission.