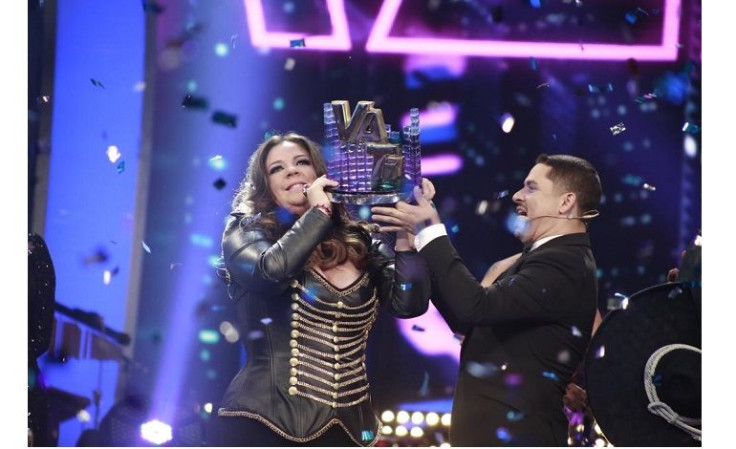 Yazaira López becoming the nation's new Latin music sensation on "Va Por Ti" Univision Network reality tv show. With 42.6% of the votes, the young Puerto Rican winner wins a coveted recording contract with Warner Music and a $50,000 cash prize.
"I want to thank God for giving me my life back. I'm grateful to my family and the production team of 'Va Por Ti' and Univision. Thank you for giving me an opportunity and for helping me showcase my talent, and that goes for those who traveled down this road with me. This is proof that nothing is impossible.
Like all of us, I struggled for many years and never imagined I could achieve this, and the main road to success is to believe in yourself. Until you realize your potential and your worth, you won't get anywhere," said López, who was bullied as a child for being overweight and has been very vocal throughout the competition about her weight struggles.
During the two-and-a-half hour finale, the five finalists – Yazaira López from Puerto Rico, Fernando Corona from Miami, José Enrique Poyato from Miami, Virginia Stille from Houston and Danny Montejo from Chicago – once again demonstrated their tremendous talent and remarkable professional growth throughout the arduous competition.
"We are proud that 'Va Por Ti' could effectively serve as an aspirational platform to showcase Hispanic talent and demonstrate what is achievable through hard work, dedication and a commitment to pursing personal dreams," said Alberto Ciurana, president of Programming and Content at Univision Communications, Inc. In the show, captains Dulce María and El Dasa came back to participate in the grand finale along with winning captain Jencarlos Canela who were there to support and see Corona finish as first runner up in the competition, Danny Montejo take the third spot, Poyato was the first to be eliminated and placed fifth, followed by Virginia in fourth place.
"Va Por Ti" finale also featured renowned singer Pepe Aguilar, the show's godfather, first special guest and judge. Music icon Miguel Bosé, who had participated as judge during the season, returned to the stage for a special duet with Aguilar. All finalists shared the stage one last time singing duets with a line-up of A-list stars. There were five duets in total: Fernando and Regional Mexican singer Bobby Pulido; Poyato together with actor and singer Mane de la Parra; Danny with Maria Leon from pop music group Playa Limbo; Virginia joined actress and singer Edith Márquez; and Yazaira sang along with actress and singer María José.
The renowned Regional Mexican band Los Tigres del Norte also participated in the finale as guest judges and shared the stage with the four finalists in a tribute to their music. In a night filled with emotions, dancing and tears, contestant Paloma Carrasco from Chicago returned to the stage after being eliminated in the semifinals and was recognized for her dedication, talent and discipline throughout the season by Alejandra Guzmán. Hosted by the charismatic Galilea Montijo, "Va Por Ti" is a co-production of Televisa and Univision Network.
The program began with 28 candidates divided into three teams led by three popular Latin music artists: captains Dulce María, El Dasa and Jencarlos Canela. The difficult competition featured a panel of famous judges led by Alejandra Guzmán and Larry Hernández, plus an internationally recognized artist as guest judge every week. Among the guests were David Bisbal, Emmanuel, J Balvin, Laura Pausini, Mijares, Paquita la del Barrio, Poncho Lizárraga from Banda El Recodo, Ricardo Montaner, Ricky Martin, Thalía, Wisin and Yuri, among others.
© 2023 Latin Times. All rights reserved. Do not reproduce without permission.