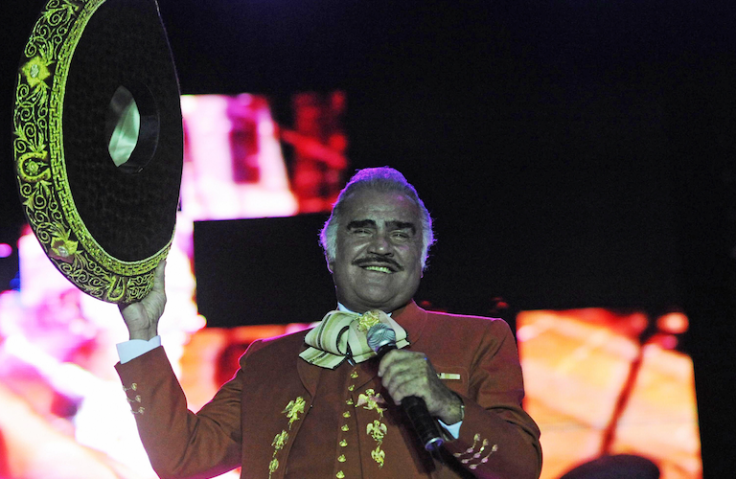 Vicente Fernández, one of the greatest Mexican icons of all times, showed why he will forever be "El Rey" with a farewell concert at the Estadio Azteca in Mexico City last weekend. "I will always remember this night. I love you with all my heart. I am forever grateful," Don Chente wrote on his personal Twitter account after the concert.
"An Aztec in the Azteca" was definitely a night to remember. More than 85,000 fans and followers attended the event and sung along to the singer's greatest hits such as, "De Qué Manera Te Olvido," "Volver, Volver," "Mujeres Divinas," "Lástima Que Seas Ajena," "Estos Celos," and of course, "El Rey."
Throughout the concert, the 76-year-old Jalisco native thanked his admirers for supporting his career all of these years.
"There is one thing that can't be compared, not even with all the gold in the world, and that is all of you, who have always given me all without me pointing a gun to your head," the iconic Mexican macho said at the beginning of the concert. "Your presence, your love, your respect, your applauses."
The unforgettable night was full of music and great times for the most part, but Chente refused to leave the stage before taking the opportunity to express his feelings about GOP candidate, Donald Trump.
"From here we are saying, 'que chingue a su madre!' He thinks he is going to win, he is crazy," Adela Micha reports the singer said in his explicit message. "If I ever come across him, I will spit him in the face and tell him to go f*ck himself."
He continued, "I will tell him everything that no one has told him before in his life."
Fernández joins the list of celebrities who have chosen to communicate their opinion about the Presidential hopeful to their fanatics in a concert.
Last year, Los Tigres del Norte carried a sign that read, "Latinos unite. Don't vote for racists" after their performance at the Latin Grammys in November, and Mexican rock band Maná made the headlines back in June for comparing Trump to Adolf Hitler during their "Cama Incendiada" tour in the U.S.
"Ojalá que te vaya bonito" es lo que canta @_VicenteFdez en su despedida en el Azteca #AdiosDeUnGrande pic.twitter.com/1goUWJ4Iq6

— Revista Fusion (@revista_fusion) April 17, 2016
© 2023 Latin Times. All rights reserved. Do not reproduce without permission.