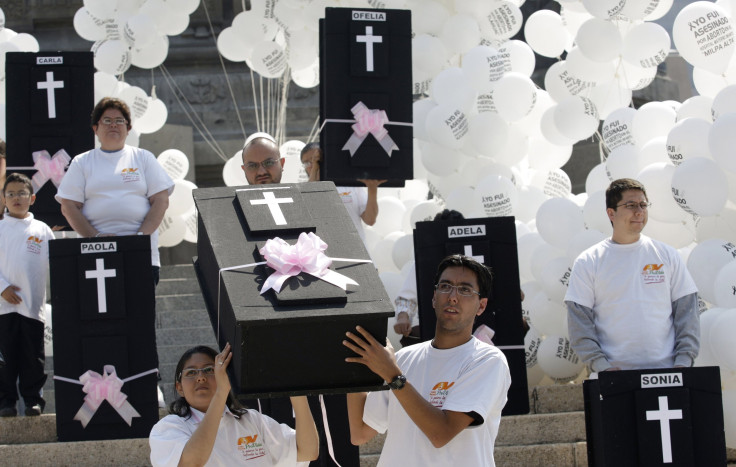 A Mexican Senator from the state of Tlaxcala offered bizarre arguments against abortion on Friday after a law passed on Thursday created five new exceptions to that state's abortion ban. Senator Víctor Hermosillo, 75, is a member of PAN, Mexico's center-right political party. In an address to religious leaders, Hermosillo said on Friday that women would be hurt by decriminalization of abortion because men would no longer marry them and simply use them for sex. He also argued that divorcées should be fined.
The legislator, who describes himself as a "practising Catholic," also proposed a law to punish couples who divorce less than a year after marrying. When you divorce someone, the legislator argued, you should have to return the majority of the money that your parents spent on the wedding. His comments on abortion were even more harsh.
"[Abortion] is a very bad thing and those in power have a duty to fight against it," Hermosillo said, according to Animal Politico. "And another thing: women, with the freedom that they supposedly took -- well it's been worse for them because men are [horney dogs] to begin with! Men don't marry these days, and they're fine with it. We face serious crisis of values."
Hermosillo echoed opposition to abortion by representatives of the Catholic Church, though not necessarily his specific opinions. They led marches against decriminalizing abortion, and collected signatures online for a petition against possible decriminalization. In addition to the loosening of laws by Tlaxcala legislators, Mexican courts are considering overturning existing abortion laws completely. Bishop Francisco Moreno Barrón
"It's a societal matter matter, and those who [join us] represent communities who are pro-life. Tlaxcala is in favor of life. Not only Tlaxcala but many states are in the same position, " told La Jornada.
Supporters of decriminalization in Tlaxcala have taken aim at Church opposition in the past.
"[This is about] the rights and health of women," said Daphtne Cuevas, or the consortium for Parliamentary Dialog and Equity (Consorcio para el Diálogo Parlamentario y la Equidad) ahead of an abortion-related vote in 2010. "This is about the agenda of the Vatican, and that's why we're asking for the defense of a secular state. Because moral [judgement] can't be imposed on everyone else and turned into law: a sin can't be a crime, that's what the Catholic hierarchy needs to [understand]."
Abortion is illegal in every region of the country except for the federal district of Mexico City. Five women in the Tlaxcala were accused of receiving an abortion between August 2012 and December of 2013. Self-induced abortions and unintended miscarriages are often medically indistinguishable, and some women have reportedly been charged under anti-abortion laws across Mexico after unintentionally losing miscarrying, The Guardian reports.
© 2023 Latin Times. All rights reserved. Do not reproduce without permission.