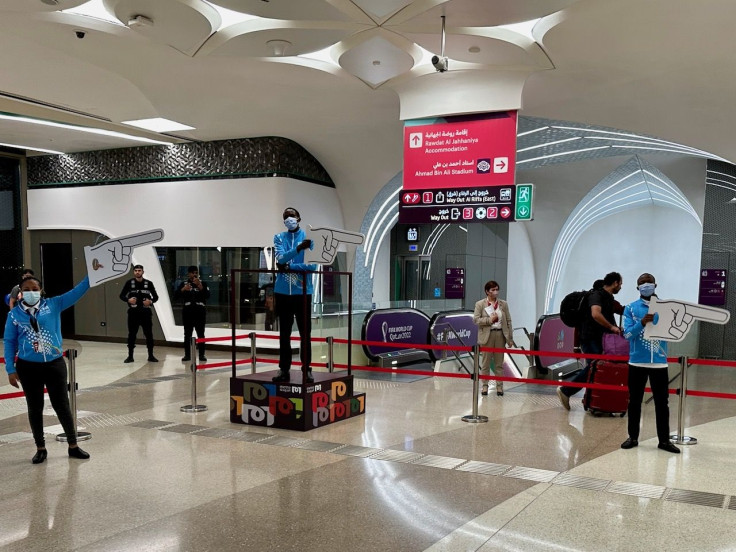 DOHA, Qatar -- The twists and turns start at Hamad International Airport immigration and don't stop until you are comfortably in your stadium seat. Finally. The shortest distance between two points is definitely not a straight line at the 2022 FIFA World Cup in Doha.
The physical barriers and the uniformed workers who stand between you and your destination have been a source of both frustration and amusement for fans throughout the tournament.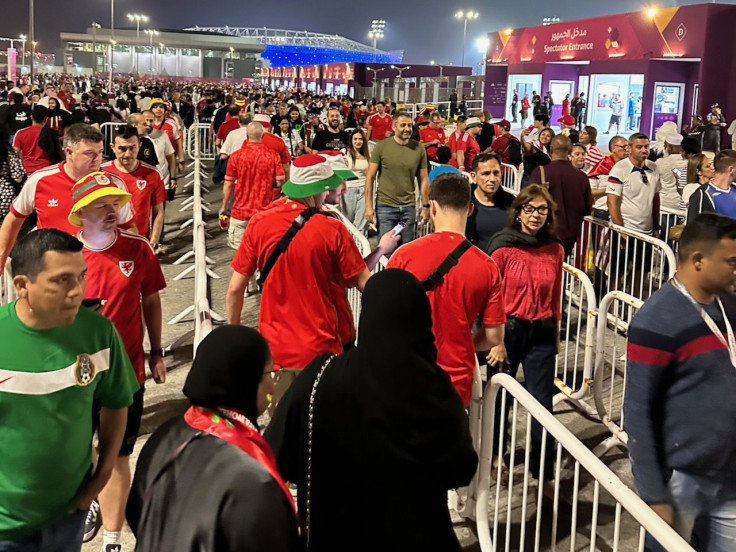 Although this World Cup technically is the most convenient, with all eight stadiums (generally) in a single location, a trip to any match may still involve a bus, train, taxi and walking … definitely lots of walking.
On my first day in Doha, jetlagged and tired from a 1 a.m. arrival, I mapped out a plan to get from my Al Sadd neighborhood to Ahmad Bin Ali Stadium for the USA versus Wales match. Using Google Maps, which works well here, I would walk a few blocks to the Hamad Hospital Metro station, take the Green Line train to the Mall of Qatar and then walk again to the stadium. Simple enough.
When I arrive at the station, the first thing I see are rows of metal barriers. They are arranged in such a way that you need to snake your way to the entry rather than walk straight in. Not as bad as passport control at the airport, but still a little annoying.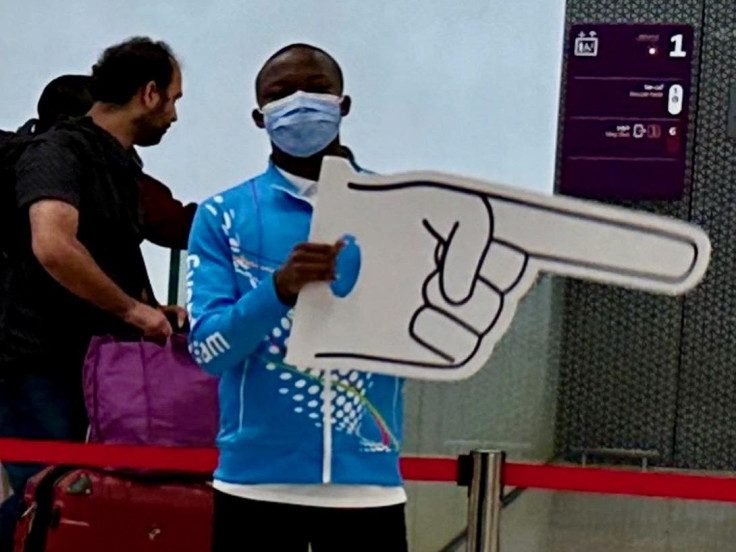 Next are the masked people in various uniforms – mostly short-term contract workers from all over this part of the world. If they are Black, they are usually from places such as Kenya, Tanzania, Uganda or Sudan. If they are brown, that's India, Pakistan or Bangladesh. The smiling, small English-speaking women – they're from the Philippines. There are loads of Filipinas here.
These "handlers" or "minders" as I like to call them – the police, security guards, station attendants and others – are here to keep the foreigners in line and give directions. Early in the tournament, most of the direction givers have gigantic foam hands with index fingers pointing left or right. They shout, "This way!" and wave their foam fingers. Some use bullhorns. Some sing. Some stay silent, letting pre-recorded messages play over and over again.
I get in the habit of asking, "That way?" after each "This way!" I encounter. The reply is always the same, just more emphatic: "THIS WAY!"
Later in the tournament the foam hands mostly disappear, replaced by the plastic light-stick wands you see on airport runways or handlers specially trained to use their own arms. I suspect someone complained to His Excellency the Minister of Environment and Climate Change that thousands of giant styrofoam hands may not be so eco-friendly.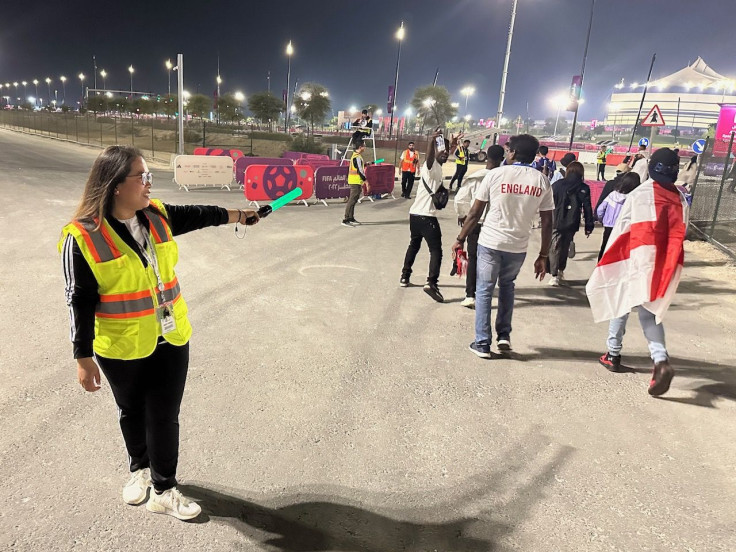 These brand spanking new Metro stations, by the way, are spotless, with high ceilings, comfortable air conditioning and ample lighting. There is no graffiti in Qatar. There are coffee shops, snack bars and plenty of signage to keep fans moving in the right direction.
I flash my digital Hayya card to attendants as I walk through the turnstile to the escalator down. This special ID allows fans here for the World Cup to ride the Metro and any bus for free. Multiple handlers monitor this area, turning back locals who try to slip through without paying.
Once on the train, also spotless, it's not a long ride to the stadium. There's also plenty of room, as fans arrive intermittently during the two to four hours prior to a match. It's after the match that's the problem. More on that later.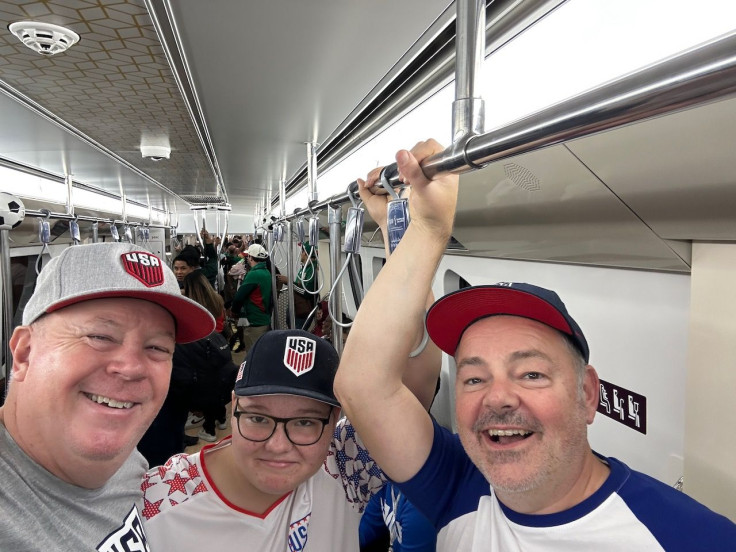 Some of the train cars are lined with what I would describe as individual business class seats, plush and comfortable. At the very front of the train, should you be so lucky, there are two forward-facing bucket seats to watch the lights go by on your futuristic ride.
My only complaint inside the train is there are no permanent Metro maps on the inside walls of each car, so you can't see all the colored lines in their entirety – helpful if you are changing trains. Everything is digital here in the future, so the only English full-system display is on an LED screen. And it only pops up sporadically, between lengthy commercials and the Arabic version.
After a few stops, I'm at the Mall of Qatar (Al Riffa) station. I disembark and am immediately herded out of the station and in the direction of the stadium. The walk is not long, but let's just say if you see a place you think you want to go, you will be asked politely to go another way. This happens over and over again.
The straight line to my stadium entry point is blocked by either a line of handlers; a concrete road barrier; a metal fence; or, a multi-layered security checkpoint. On top of this, once you think you have reached an entry point to another set of snaking lines at the security gate, a handler will close the gap and push you down the line to the next entry point and another snaking line – which inevitably closes just as you arrive.
I was guided, always with a smile, past four seemingly good, perfectly fine openings before I was allowed to pass and enter my own snaking line. Here, it's time to display the digital Hayya card again and, this time, I also need to show my match ticket, also digital, on a special FIFA app.
In fact, one of my primary concerns here in this 100 percent digital Qatari future world, is that my phone would run out of juice. Would they let me back on the train if my phone ran out of power and I could not display my Hayya card? How would they let me inside the stadium if I could not display a ticket on my phone?
This drives me to carry a lithium power stick, which looks like a perfect container for C-4 explosives. I also carry a wallet, some hand lotion and, as always, a tiny notebook and pen. At security, after passing through the metal detector, the guards there surprisingly let the power stick alone but confiscated my pen. Go figure. Perhaps the pen really is mightier than the sword – in Qatar anyway.
Once through security, it's time to find the stadium gate. Here, my digital ticket is checked once again. I can only enter the gate that is on my phone. Inside, there is one more ticket check at my section. Check! And I am finally in.
Now comes the end of this travel transportation story, which I must repeat at all seven of the matches that I attend: How to get home.
It's one thing for fans to arrive at a stadium over several hours prior to a match. But it's a totally different experience when 40,000 to 60,000 people leave a stadium together at the end.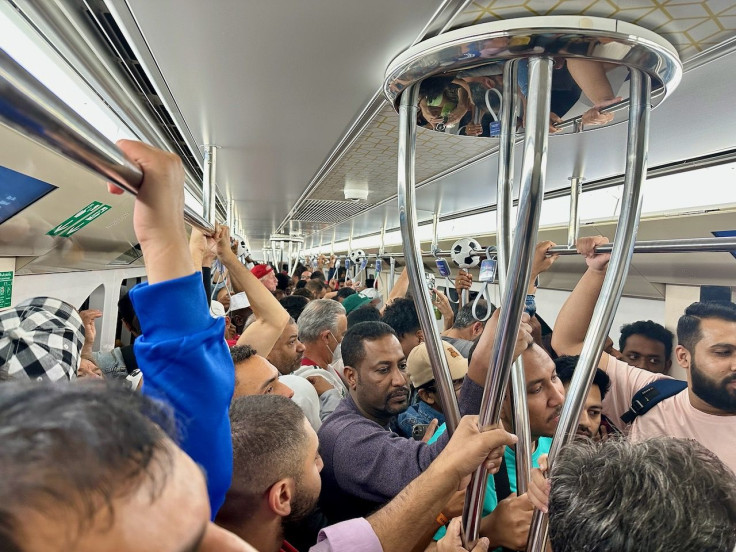 Here is where my Qatari handlers get it completely wrong. Instead of using that massive contract labor force to open some of the gates and remove a few barriers, all energy is used to funnel fans back to that single Metro stop. If you follow the handlers directions now, you will be trapped inside this massive funnel, from which there is no escape.
My secondary objective at this World Cup – besides keeping my phone charged – is to avoid the funnel at all costs. There is no way I am going to stand in line, shoulder to shoulder with thousands of tired fans, for a train car outside a single Metro station. It's already 12:15 a.m. when I exit, and I don't want to take two to three more hours to get home.
Here is where the ingenuity of the freedom-loving Indian, Pakistani and Bangladeshi entrepreneurs comes alive. As I walk, desperate to avoid the "This way!" advice from my handlers, I start to hear another word. It comes quietly at first, in almost a whisper. From one man, and then another … and another.
"Taxi?"
Just outside of the stadium's barriers, there's a small army of taxi and Uber drivers. Most dropped off passengers three or four hours earlier, but then waited until the end of the match for a return fare. It's the best and fastest way to get home after a World Cup match. No handlers required.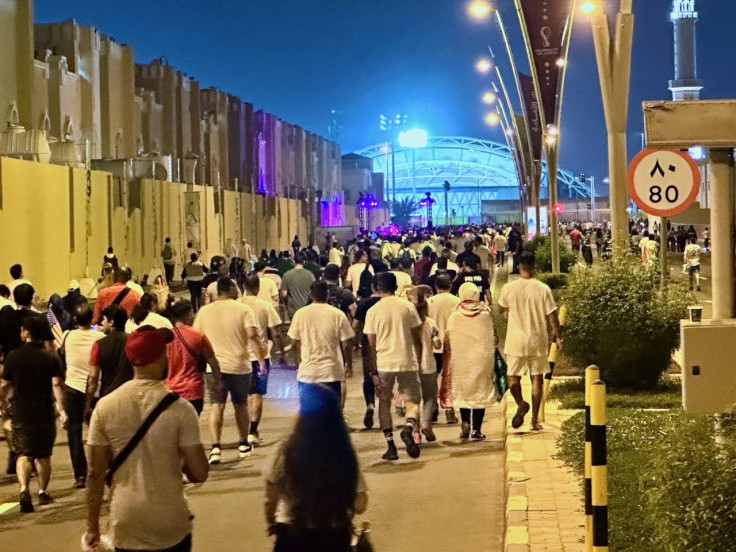 Steven F. Shundich is a Chicago-based travel writer and humorist. He's currently on a World Cup bender in Qatar, after 10 days in Jordan, and will soon move on to Singapore, Australia and New Zealand. Follow him on IG at @wtfshundich.
© 2023 Latin Times. All rights reserved. Do not reproduce without permission.