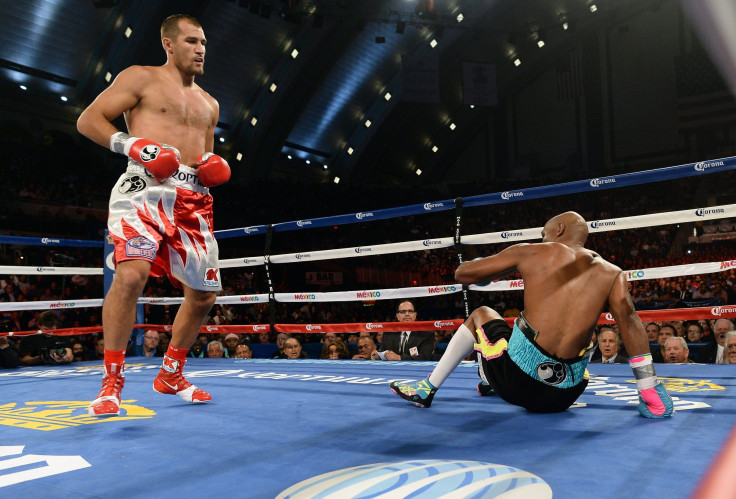 ATLANTIC CITY – The ageless wonder, Bernard Hopkins, finally showed signs of slowing down as he was thoroughly dominated through 12 rounds by Russian, Sergey Kovalev. Kovalev put on a boxing clinic in front of 8,545 people at Boardwalk Hall in Atlantic City, NJ on Saturday.
Hopkins, known as the "Alien" because of his inhuman aging abilities, was not able to conjure up the youthful combination of speed and strength that the 49 year-old has had in past matches and in his heyday when he was known exclusively as "the executioner."
Kovalev knocked down Hopkins in the first round with an overhand right that shook up Hopkins. Kovalev continued to punish Hopkins throughout the fight winning all twelve rounds on most judges' scorecards as he defended his WBO light heavyweight title in a unanimous decision.
The match went as most people would expect a fight between a 31-year old boxing star in his prime against an aging 49-year-old who is two months away from turning 50. Kovalev (26-0-1, 23 KOs), remains undefeated as a professional and believes his victory over Hopkins is the biggest of his career to date.
"I'm very happy," Kovalev said after the fight. "This victory was for my son Aleksandr."
Kovalev is a new father as his wife, Natalia, gave birth to their first child two weeks ago in Los Angeles. According to Kovalev, he was training for the fight in New Jersey and was unable to make the birth. Kovalev to this day, has still not met his newborn son, and said he used that as motivation in his punishment of Hopkins.
Hopkins (55-7-2, 32 KOs) might opt to retire after having lost for the first time in such a dominating fashion over the span of his illustrious 26-year career. Hopkins has obviously lost six other times before, sometimes by controversial judges decisions, but never has Hopkins been obliterated each and every round by his opponent as he was by Kovalev. In addition to the embarrassing defeat, the 49-year-old took a physical pounding during the fight the likes of which he has never experienced before.
"I give him a lot of respect," said Hopkins. "We both would fight anyone and that's how we ended up here tonight. That's what brought us together. That's what the people want to see, one title, one belt, one champion."
Asked if he was going to retire, Hopkins responded, "It's 50-50. I don't really want to say anything. Everybody will have a long time to talk about my career when it is over. It's been 50-50 for the last nine years. I've done what I had to do. I'm fine. Really, I'm fine."
If Hopkins opts to retire, he is a sure first ballot Hall of Famer. He would retire as one of the best boxers of his generation, with a record 20 middleweight title defenses, three title reigns and upsets over Felix Trinidad, Antonio Tarver and Kelly Pavlik. Hopkins is also the oldest boxer to win a world title, a feat he did twice at 46 and 48 years old.
© 2023 Latin Times. All rights reserved. Do not reproduce without permission.