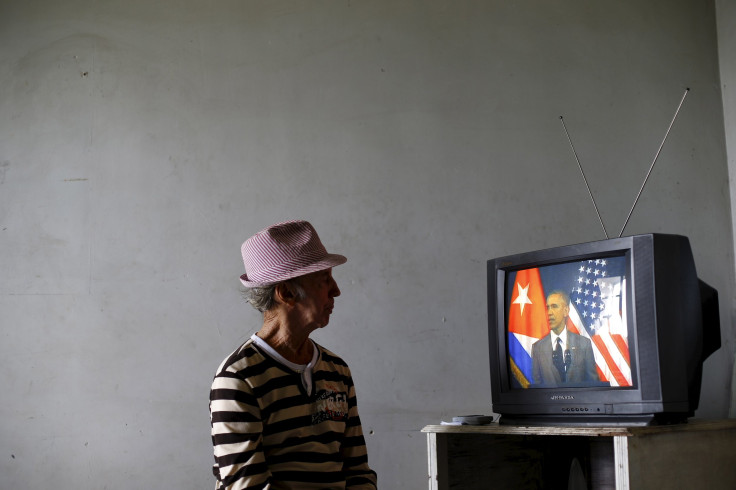 Barack Obama is the first sitting U.S. President to visit Cuba since the invention of the television, adding to the poignancy of his direct address to the Cuban people in which he called for greater democratic participation, economic opportunity and internet access. The address concluded his two-day trip to the island, the culmination of a two-year diplomacy effort that has softened America's embargo of the island's communist regime and angered Cuban exiles still bent on dismantling it, or, as Florida Sen. Marco Rubio has argued, enacting more concessions.
In his speech, Obama called for reconciliation not just between the U.S. and Cuba, but also between Cuban-Americans who fled the Castro regime and Cuban citizens that stayed behind. At the beginning of Obama's Cuba speech, he remarked that the journey to the island was metaphorically longer that the 90 miles separating Havana from the southern tip of Florida. As we've reported before, individual actions by private individuals in the Castro regime and the U.S. private sector have pushed Obama's reforms forward from behind the scenes.
"I've come here -- I've traveled this distance -- on a bridge that was built by Cubans on both sides of the Florida straits," he said.
For the first two-thirds of the speech, Obama focused on shared culture and aspirations of Cubans, outlying a loosely pan-americanist vision drawing on the stories of Cuban writer José Martí, who lived in and wrote about New York City, and American writer Ernest Hemingway, who lived in Cuba and was awarded the Nobel Prize in part for his portrait of Cuban fishing and baseball culture, Old Man In The Sea.
"Todos somos Americanos," Obama said in Spanish -- we are all Americans (from the Americas) -- concluding with the oft-cited Spanish translation of his 2008 "yes we can" slogan: "Sí se puede."
between Cuban-Americans and Cuban "revolutionaries."
You can watch the full video of Obama's address. For a full transcript, check out U.S. state media outlet Voice Of America, which published the multiple Spanish phrases used in the speech (Time and others omitted the Spanish bits).
© 2023 Latin Times. All rights reserved. Do not reproduce without permission.