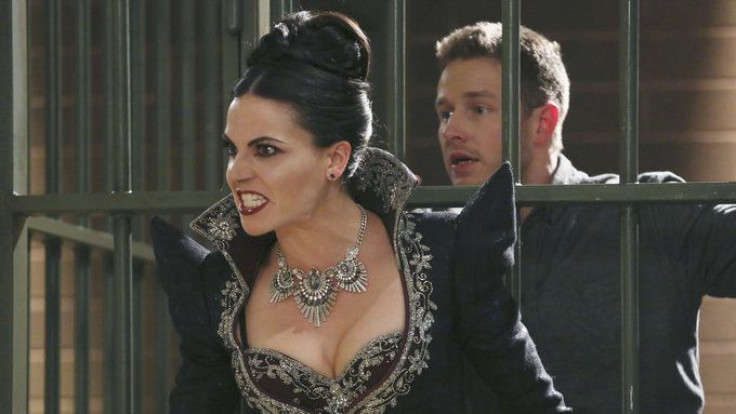 Sunday is an all new episode of the fairy tale drama "Once Upon a Time" on ABC! We are in for lots of action in episode 11 "Shattered Sight" as the Snow Queen's curse has officially hit Storybrooke and everyone has been affected by it except Emma, Elsa, Gold and of course the Snow Queen. ABC describes the upcoming episode as:
On "Shattered Site," Storybrooke is in a state of chaos with all the residents under the Snow Queen's Spell of Shattered Sight at each other's throats. Emma and Elsa race against the clock to free themselves of the ribbons and take down the Snow Queen and her curse. David can only watch when Regina clashes with Mary Margaret in an epic battle. Meanwhile, Gold gathers Belle and Henry as he prepares to leave town forever, and Will Scarlet looks to square his tab with Hook. Kristoff's thick-headedness leads Anna to a heartwarming discovery.
The network also released two sneak peek clips which show us exactly how Snow Queen's curse works. In the first clip Regina tries to escape her vault. She blames Emma for her being there and catches a glimpse of herself in the mirror. Disturbed by what she sees she transforms herself into the Evil Queen we know and love. In a second clip we see Snow, Charming and Kristoff going at each other's throats in the jail while Anna tries to play mediator. Snow also drops a major bombshell we weren't expecting! Check out both clips below:
There are a couple of ways to watch "OUAT" tonight! The first is to tune in live on ABC at 8/7c. But if for some reason you can't watch on TV ABC will stream it for free via their website with limited commercial interruptions the day after. Another option is to watch the episode live on your computer via ABC's website here! This service is available based on your location and if you qualify you have access to the episode during its air time and can watch live. A third option is to download ABC's mobile app, Watch ABC, for iOS and Android and watch on the go.
You can also purchase the episode for about $2 bucks from iTunes, Google Play, Xbox Video, Amazon Instant Video and more. Or if you are a Hulu Plus subscriber you will have access to the video the day after it airs and can watch for free!
© 2023 Latin Times. All rights reserved. Do not reproduce without permission.