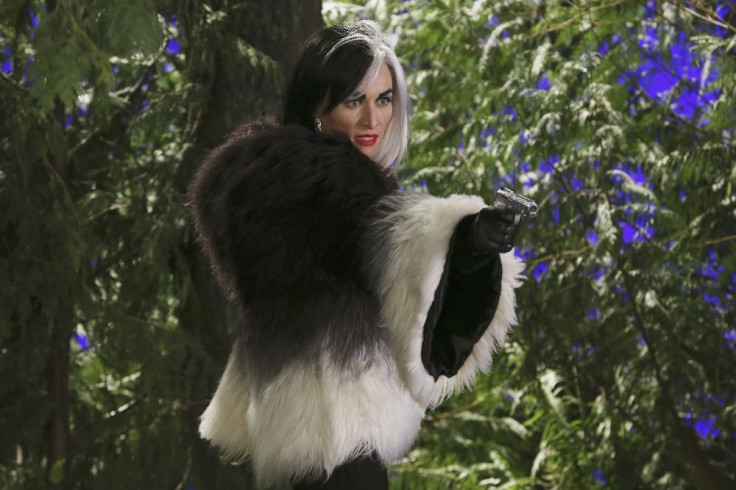 Tonight is an all-new episode of "Once Upon a Time" on ABC and we want to know if Cruella De Vil (Victoria Smurfit) will get her happy ending just like Ursula (Merrin Dungey). From the episode preview we know the villainess is hiding a dark secret and she will do anything to keep that secret from coming out including kidnapping and possibly killing Henry (Jared Gilmore).
In the previous episode "Heart of Gold" we took a little detour from the main storyline and we learn that Zelena the Wicked Witch (Rebecca Mader) is still alive and has been hiding in disguise as Merrian (Christia Laing), Robin Hood's (Sean Maguire) wife. We also learn that Zelena has been in on Gold's (Robert Carlyle) plan to find the author all along. This weeks new episode will get us back on track, kind of, and we will learn more about the villainess Cruella De Vil.
The synopsis for episode 19 "Sympathy for the De Vil" reads: "A young Cruella is confined to an attic by her mom, who uses Dalmatians to frighten her. Meanwhile, in present-day Storybrooke, Regina (Lana Parrilla) gains the upper hand with Gold and prepares to save Robin, but her attention shifts when Cruella abducts Henry." We also know from the promo trailer that the author will somehow be involved with Cruella's backstory.
Guest stars in "Sympathy for the De Vil" include Patrick Fischler as Isaac the author, Kristin Bauer van Straten as Maleficent, Anna Galvin as Madeline and Milli Wilkinson as a young Cruella.
There are a couple of ways to watch "OUAT" tonight! The first is to tune in live on ABC at 8/7c. But if for some reason you can't watch on TV, ABC will stream the episode live via your computer on ABC's website here! This service is available based on your location and if you qualify you have access to the episode during its air time and can watch live. A third option is to download ABC's mobile app, Watch ABC, for iOS and Android and watch on the go.
You can also purchase the episode for about $2 from iTunes, Google Play, Xbox Video, Amazon Instant Video and more. Or if you are a Hulu Plus subscriber you will have access to the video the day after it airs and can watch for free!
© 2023 Latin Times. All rights reserved. Do not reproduce without permission.